A company must intelligently manage its expenses. Otherwise, measuring and controlling cash outflows can be challenging with the increase in workforce and clientele dealings. So finance managers must extensively study the benefits of an expense management system.
This knowledge helps them understand how an ERP or CRM system can aid them in managing their regular cash outflows. There would be full control and complete transparency. It could be related to man-hours invested, projects completed or putting a billing system in place. 
Each case and use of an automated expense management system is different for every company. No one particular software could be the right fit for all. But before finalising the software or tool to use, begin understanding if your firm is ready to use it.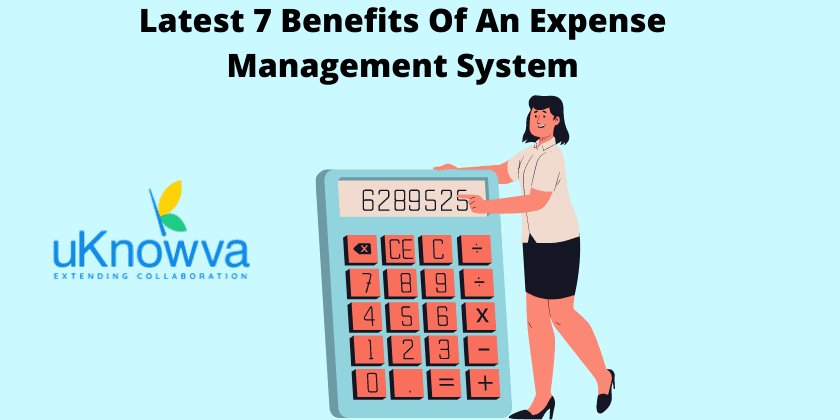 Well-Known 7 Benefits of an Expense Management System To Know About in 2022:
1. Save time and manual effort:
A dedicated and automated expense management system like uKnowva is useful to new-age and growing companies. The days of manually calculating, checking, and auditing expenses sheets, notes, or receipts are over. 
The finance team can spend less time on these mundane tasks now. Instead, they can create an ERP system on uKnowva cloud-based platform. 
There, they can upload their receipt and excel datasheets in bulk. The data integration there could be fully customised and configured. That is based on the set triggered actions by the admins and the finance managers. 
2. Multiply and maximise efficiency:
The core benefits of an expense management system in 2022 for companies is that they get to maximise their potential. 
That being said, companies would know real-time their financials. This can include regular cash inflows and outflows. The overall calculation of operating income and expenses is easier and more manageable under one instance. 
Ultimately, finance managers can function and integrate with other functional heads to verify the financial decisions. This would include the ROI and impact of every such financial objective decision. 
So every time a company needs to spend on their employees or clients, they must know their current balances on the spot. This expense management system really saves all the effort to get the right update at the right time. 
3. On-time audits for fraud detection:
The benefits of an expense management system are incomplete without the auditing facilities. So the new and modernised ERP like the one created on uKnowva provides the same to companies. 
Finance managers can check and audit for financial frauds on the spot. In addition, they can set automated reminders in case there is a mismatch or an imbalance in the expense sheets. 
The data can be verified from the balance sheets and the bank statement entered into the system for a comprehensive audit. 
This way, managers handling expenses don't need to manually put their special man-hours to audit the system for fraud or human errors continuously.
4. Channelise proper cash flow management:
Finance managers manage and monitor daily cash expenses on the ERP systems. These systems are on the cloud and accessible anywhere. They can easily verify how many expenditures are happening daily by checking the calendar or dates for each expense sheet. 
There are also options for finance managers to check who entered the expense data in the system. Then, later, they can personally verify the same expense on the chat box options on the same instance. 
There are proper headings and categories for expenses like rents, employee welfare, furniture, plant and machinery, etc. Managers can tweak and configure these changes with the approval of the management and the admin. 
So channelling the proper cash flow statement is definitely among the most looked after benefits of an expense management system.
5. Make smarter business & financial decisions:
Like the rest of the insightful reports given on the ERP-like portals of uKnowva, finance managers also access expense sheets and dashboards. They can fully customise and configure these reports as per the management's orders. 
They can be flexible in adding, removing, or renaming financial expenditure categories. There could be different expense sheets based on categories. Otherwise, managers can curate and manage one expense sheet depicting total expenditure on different projects. 
It depends on how financial managers want to read, use, and validate their project-based and operational costs. 
The overall expense management system experience is interactive and intuitive while managing these expenses categories. In addition, easy accessibility and control over these sheets help managers to make smarter financial decisions for the next projects. 
They can discuss human resource allocation accordingly with their HR professionals to save costs earlier incurred in any project. 
6. Deeper and insightful financial records and reports:
The finance manager must know which project is useful and more profitable. That's why they can depend on an automated expense management system. Because using such a tool, they can access detailed reports with updated data depicting and projecting expenses in real-time. 
So, that's why this is one of the most prominent benefits of an expense management system in 2022 for companies. Ultimately, finance managers shall know how to allocate their available resources judiciously next time. 
They can save at least 2x to 10x or more costs invested in each task and project. Of course, it depends on further cost-cutting strategies the management approves. The basis for such decisions is formed from the system's insightful real-time financial analysis reports.
7. Real-time accessibility:
One of the vital benefits of an expense management system interlinked with the previous point is this one. The finance department needs to access information about their expenditure at present. 
They must always have an updated datasheet about the firm's ongoing cash outflows and inflows. Otherwise, all other estimated projections dependent on the cost sheets would be wrong. 
We can say this is a really important feature the software must have. Otherwise, companies might get a wrong or misconstrued figure for their realistic financial decisions. And those wrong figures can put a growing company in an ever-growing debt or loss. 
To avoid that mess, real-time data on expenses and income must be in place. 
Conclusion:
The 7 benefits of an expense management system listed above give you a better understanding of its importance for a growing company. For example, if you're a finance manager, you know the value of your time. 
An automated expense management system saves employee and functional heads' invested time and talent with greater guaranteed ROI.