Work from office days benefits the workforce in multiple ways. There is no doubt that WFH enables freedom and flexibility. But going back to the office means closer interactions, purposeful days at work, laser-sharp focus, and more.
To know how and why to make work from office days more attractive, pay attention now. This blog will list all the possible reasons and ways for WFO days to be fruitful. That is even after implementing smarter and automated tools like uKnowva HRMS.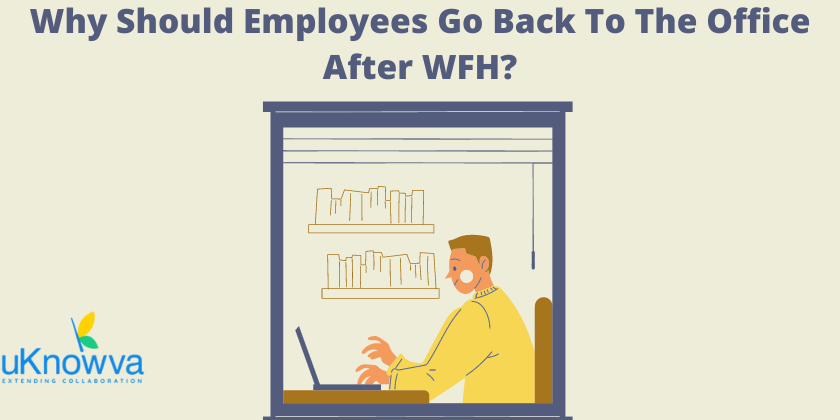 Reasons With Solutions To Bring Employees Back To The Office And Break The WFH Norms:
Strong support system
HRs and employees can break newer cultural benchmarks online. But it has to have a strong underpinning before that. That only happens when employees meet and greet often. And that includes meeting in person instead of video calls. 
Meeting in person has greater value, improving trust, empathy, and respect. HR managers will see automatic evolution in socialisation amongst their employees. That happens without pushing them to connect and collaborate.
But for that, employees need to be willing to meet. 
The solution:
HR teams must organise events for team members to come back to the office. That way, employees take this day seriously to turn up to work physically. HR managers must encourage the value of strong culture and become an example for the same. 
That is possible through constant reminders of the latest happenings in the company. Employees working from home find those updates on uKnowva HRMS or its instance. That's one way to coax them to return for the greater good on special days.
Healthier work-life balance
Working from anywhere or remotely leads to issues like presenteeism and burnout. Employees forget to take their eyes off the screen when required the most. It leads to reducing eye and brain power. We can say that constant screen time can tire people. 
Going back to the office is a refreshment and break from their monotonous work lifecycle. In addition, they get to meet new hires in person, which helps them coordinate better in future. 
While at the office, they think less of issues at home or in their personal life. They get to chisel their focus on more productive tasks in a culture that boosts honesty. However, it's difficult to convince employees working remotely to try coming to the office occasionally.
The solution:
The uKnowva HRMS helps track the happiness score of each employee as they punch in/out. It's a necessary insight for reporting managers to know if their subordinates are underperforming. 
Managers can audit their performance reports on time – even set reminders in the instance to evaluate reports. They then make coming back to the office more serious and purposeful. 
They can become coaches, mentors, or guides to their employees facing issues at home or during WFH life.
Employers leverage the uKnowva workflow management tool to connect and comprehend their teams' challenges. Then, they can take the initiative to solve those queries in person. 
Networking
Collaboration for improving coordination is one of the important reasons for employees to return to offices. Employers must make their employees understand the value of connection and networking. 
Not every employee is tech-savvy or tech-friendly. They might not leverage the technology at par. However, when employees meet in person, they connect deeply with more clarity and understanding. 
Such understanding, unfortunately, might arrive late while working remotely. However, the presence of the uKnowva social intranet conquers those barriers to connecting as much as possible. 
However, employees should schedule in-person meetings to strengthen their bonds. Such networking bonds might lose value over time without physical interaction. 
That is because physical appearances in one another's proximity create a major impact on one's mind and life.
The solution:
Employers optimise the availability of uKnowva HRMS solutions, encouraging employees to connect consistently. Using this solution will help employees stay abreast with the latest company happenings.
Employees can decide which day they want to return to their offices by identifying the upcoming events. Next, they can network with the staff even after the in-person meetings using this software. 
This could be an encouraging loop for HR managers to exercise. They update the latest events in the uKnowva instance. The notifications are automatic. Employees receive those alerts without messing with their schedules. 
This way, going back to the office is sincere with optimised timesheets. Plus, HR managers must inform their employees about the team building and bonding activities for both in-house and remote workers. 
Reading about this news, employees can evaluate whether their back-to-office days are fruitful.
Skill and talent growth
In-person meetings are useful to learn about the highly hidden talent employees possess. Sometimes, systems cannot detect that as bots are not always 100 percent accurate. 
Employees and employers get to know their latest or hidden talents. With these meetings, employers make better human resource allocation decisions. In addition, they can feed such data later in the system for running simulations for projects to assign. 
Different people share their inner strengths and weaknesses faster with in-person meetings. That might not always be possible while working remotely or without video conferencing. 
Many employees are usually introverts. They have difficulty connecting with people without external motivation. But they lose the opportunity to learn and grow as times and demands change. 
However, going back to the office is more purposeful. Extroverted employees and sincere employers encourage each other. There is a sense of healthy competition to take back home and work on. 
That applies to every worker in the firm. At times, such socialisation helps introverts overcome their anxieties and unresolved worries.
The solution:
Employers incorporate uKnowva HRMS and social intranet in their firms to boost collective learning and growth. However, this system can also be used to promote in-person learning. 
The HR analytics helps diagnose and predict low and high-performing employees. Later, they can ask them to train other team members during the in-person meetings. That way, slow learners can ask a query on the spot without waiting for too long. 
Afterwards, employees can go back and review or vote on the value of their in-office meetings over the instance. Such ratings help employers refine their WFO days for purposes.
Conclusion:
Be it remote workers or in-office employees; all deserve to connect and co-create. Going back to the office is just another way to extend their collaborations.
When companies implement smarter uKnowva HRMS solutions, they provide better employee experiences. 
Those experiences are similar and automated, whether it is for WFH or WFO days.