You can find a lot of employee engagement tools online while researching.
The perfect employee engagement platform must have extraordinary features for an experience worth counting for. Employees will then start loving and looking forward to using this tool. 
It often happens fast with reliable features mentioned below. These are not the only features; as the trend develops or reforms, so will these. 
The best advice while looking for these features in your next employee platform to engage would be to see if it is flexible and fully customisable.
Rest, keep an eye on the company culture as it evolves to incorporate necessary changes on time in the tool.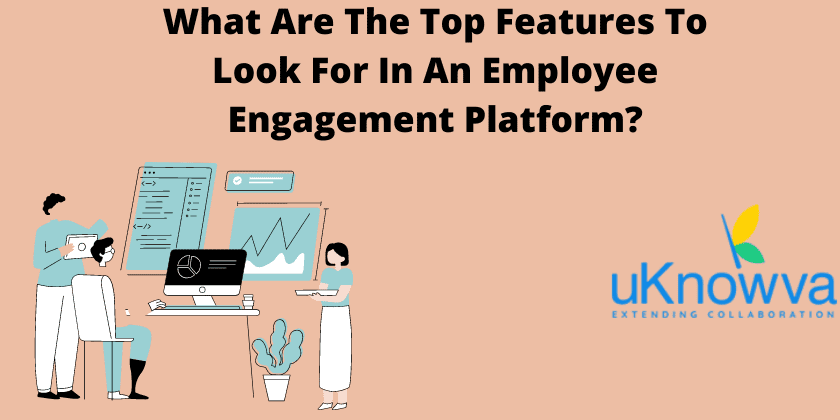 Top Features To Look For In Your Next Employee Engagement Platform Are:
1. UI that excites employees to engage:
Ease of use and employee's preference are two components that will make your employee engagement platform successful.
Because if employees do not understand the platform, it's impossible to expect daily engagement from them. 
Your employees must not feel like they're wasting time or having one more task to complete while using this platform. Instead, the UI has to be clearly visible and readable.
With this functionality, the employee service platform is no longer a nuisance. Rather, it will make employees happy to engage every day.
2. Set up creatively challenging goals:
Employee engagement rises above expectations when they have the right to set their goals. They can work in tandem with their RMs to resolve their goal-setting issues. The system must have this feature for sure. 
With different goals for every individual, the experience in the system is remarkable. Every employee will then feel special and want to break their usual records. Admins can also help relationship managers to regularise the KPIs set. 
They can team up to change each KPI. This will enable them to enter more demanding yet progressive goals. And highly-dedicated workers would love such an employee engagement platform.
This software, uKnowva, gives them enough chances to level up their skill set.
By setting goals creatively, employees learn to be self-disciplined and be answerable to their KPIs themselves. It removes the requirement of micromanagement as well. 
3. Enough room for the employee to engage daily:
The listening platforms or the ones offering engagement features like uKnowva must help employees daily. But it should also invite a completely happy mood. 
Your hired staff must enjoy coming to work and engaging with teams every day on this platform.
To deliver this experience to each user conclusively, the platform or software has to be agile, flexible, and fast to load. It must recognise the user or their system without flaws. 
Employees would not log in with their "USER ID" repeatedly. They just click the network link, and the punch in frame pops-up to enter their work details and mood. 
With such simplicity and effectiveness, every employee would open up to entering their work notes without supervisor's follow-ups. These employee engagement programs do not hamper employee productivity or effectiveness. 
Rather, with ease of use and load, employees are at ease to operate the same.
4. Automated biometric system:
Employee engagements level up faster with an automated biometric system. It must connect the live geo-tags of the employees punching in or out automatically. Otherwise, employees have the facility to switch it off. 
Additionally, a virtual biometric system helps manage diversified staff. These hires can be working from anywhere. But employers need to know if they are working at present and are active or not. 
That does not mean they want to micromanage their dedicated staff. But with leaves and attendance systems, everyone stays disciplined to engage with a collective purpose. 
Moreover, the employee engagement platform with a VBS connects it with performance, projects, and timesheets automatically. This helps human resource personnel in calculating and disbursing employee salaries on time. 
When salaries are on time, employees automatically favour the corporate culture, including the employee platform for their engagement.
5. Employee directory for extending collaborations:
One of the primary purposes of employee engagement programs is to extend their collaborations. This could be difficult to connect with people offline with different personalities. 
However, when the firm uses a centralised system, engagements to collaborate are better and constantly improve. It's possibly because of the holistic and advanced employee directory embedded in the system.
Any employee can search for a name in the system.If these are the names of a registered employee, all necessarily accessible information will be there.
Then, one employee can connect with another without having to meet and greet personally. They can start talking to each other to work on the same projects without initial stages of awkwardness.
So, an intuitive and interactive software with the employee directory can be beneficial for employees to know each other regularly.
They can message each other on the chat process after adding one another on their social network. At times, that is also not necessary.
The employee directory will directly show you the list of active employees of your organisation in the chat process or messenger. 
So, again, the hassle to connect with new or distant employees is removed and taken care of. Instead, they can create team streams or chats on the spot. This is a faster initiative in the employee engagement platform like uKnowva to connect with a purpose.
6. Flawless performance management system:
Employee engagement has to be purposeful and innovative through the employee service platform. For that, it connects the network to the performance management tool or interface. 
Using this integration, employers and team leaders know if their subordinates are working on time. They gauge the calculations and facts related to project delivery and their overall performance. 
Because without higher performance, it's impossible to meet necessary employee engagement scores. This could be vice-versa too. That is, if employees are not engaging purposefully, their projects will not be on time. 
Therefore, each statistic is necessary for relationship managers to discern whether their employees are happily engaged in their job or not. The best way to gauge that is to check their performance reports for an objective audit or overview.
Conclusion:
A feature-rich employee engagement platform is what your organisation needs. It will surely improve employee experience, empower their engagement rates, and persuade them to perform better. 
uKnowva is a software solution for employees' engagement programs. 
Contact us here for booking your instance today.