Qualities of a good human resource professional include being a dependable source for acquiring, empowering, and engaging talent flawlessly. We also find good HRs remain true to themselves and the organisation.
Whenever you're working with a good HR, notice they are the true problem-solvers. They are good at reading behavioural cues. 
Most often, they recognise the unexplained issues when you approach them. These people are proficient at time, talent, and trust management.
Additionally, modern HRs and their teams now use a trusted HRMS like uKnowva. It makes their work-life easy, more manageable, and fun. They are now empowered to execute more complex HR tasks daily at their comfort using this tool.
But let's get back to knowing what truly makes them a good human resource professional. Or more about these qualities which make any HR or their team trustable, dependable, and fun to engage with.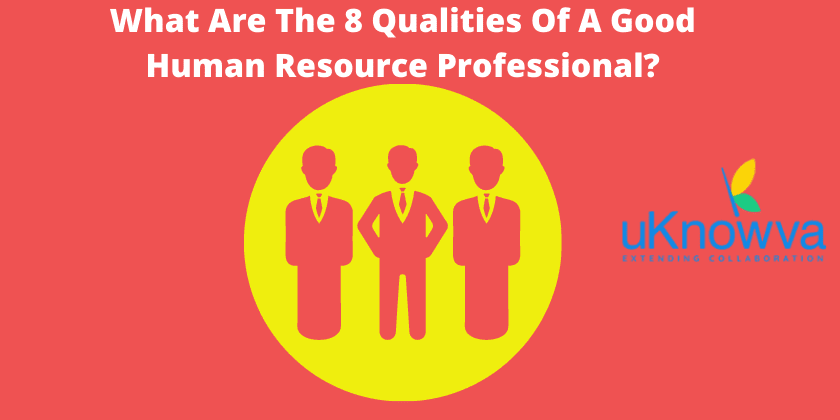 8 Qualities Of A Good Human Resource Professional Are:
1. Organises tasks and targets effectively.
A good human resource professional organises multiple tasks and targets effortlessly. They have quite a few deliverables to meet. All are related to company and end-to-end employee management policies. 
They must not take these commitments lightly. Therefore, they have to plan how to hire, develop, manage, and empower their talented employees in advance. Their targets are, after all, surrounded by the workforce they onboard. 
Such qualities of a good human resource professional depict that company culture can boom and prosper as well.
2. Leads teams by examples.
HR and their teams must know that they have to set examples for their employees. This is because they are the first department from where the company culture stems. If HRs know how to plan, implement, and control the culture in the company, employees follow suit. 
Often, new employees seek HRs, and their teams help to get acquainted and settled well in the company. So, the qualities of a good human resource professional involve knowing how to lead employees by example. 
This could be by arranging team-building exercises between new and existing employees. Otherwise, organising activities like PotLuck, lucky draw, celebration of auspicious events, and monthly employee recognition awards. 
3. Enjoys solving complex HR problems.
Qualities of a good human resource professional also include their nature to solve complex HR issues. They can now take the help of an HRMS, agile, and on the cloud. This way, they learn and adapt to the culture of automating and streamlining mundane tasks. 
It saves their time and constant efforts in managing employee data in bulk. Otherwise, dependable HRs solve complex issues with a calm mind. They are known for not losing their cool. Instead, they observe the event and evaluate the pros and cons. 
Accordingly, they make the decisions to mitigate the loss and elevate the synergy levels between employees. 
4. Knows how to take calculated risks.
There are risks involved in hiring, managing, developing, engaging, and laying off employees. Basically, wherever a workforce is concerned, there could be a risk. After all, HRs are the first point of contact between employees and employers (management). 
They can't risk creating a bad image of the company in front of their employees or outsiders. For that, they have to be calculative and analytical in taking risks or managing candidates and the workforce. 
A trustworthy HR and their teams evaluate the risk factor in every decision. Then, they set the plan; know the pros and cons. The best alternative to this strategy is by using the uKnowva HRMS tool. 
It helps in providing insightful real-time reports. It could be related to top-performing or under-performing employees. HRs re-evaluate which employee is going through burnout and who is taking too many leaves at once. 
They also get answers to questions like the best hiring channel or source for their firm. That could be in terms of cost, productivity, and employee longevity in the firm.
5. Loves working with data and advanced HR tech tools.
Modern firms and companies have to deal with the multiplied velocity of data. Every day there is a new trend in the HR world. One or another news goes viral regularly. So it becomes hard to catch up to these trends and nurture talent internally simultaneously. 
But qualities of a good human resource professional also include the love for data. Be it data exploration, cleaning, and evaluation; they love it all. Using uKnowva HRMS is a plus point here. 
HRs can promptly read their employee data registered and automatically presented in the dashboard. As a result, they are less dependent on the paperwork. In addition, the data on uKnowva systems is available on the go. It can be accessed, edited, regularised, and monitored on demand. 
This gives HRs and employees an outstanding data management experience. 
6. Can be trusted as a multitasker.
Good and reliant HR professionals must be multitaskers. They and their teams have to deal with the workforce daily, for one issue or another. They can't keep prolonging it. There will be a mess in the company culture otherwise. 
However, with people management software and skills, this hard work is also tackled with ease. 
HRs can set multiple goals, targets, and metrics in these tech tools. Later, they can verify which tasks are met and separate them from the pending ones. 
Virtually, they also get to multitask by streamlining their tedious and lengthy HR tasks. This can be, for example, sending out bulk offer letters, checking applicant status, and rolling out job vacancies on multiple platforms.
Such mundane tasks can be done within a click or so. It saves their preciously invested time and allows them to focus on better people management skills. 
7. Does not discriminate between employees ever.
Certain qualities of a good human resource professional also involve being objective and free from bias. Therefore, they should not ever discriminate against their employees on any terms or conditions. 
Today, the work culture promotes DEIB – diversity, inclusion, equity, and a sense of belonging. In such a hyperconnected world, discriminating against their employees is disregarded. It can ruin a firm's entire reputation in a moment. 
When HRs hire based on experience, merit, and skills, they gain more respect from their hires and employees. In addition, they set leadership examples again by hiring workers from anywhere in the country (or the world – if the budget allows). 
What ultimately matters is employee contribution to add enormous value to the firm during their tenure. 
8. Inherits and executes persuasive communication skills.
Communication and persuasion skills are the topmost qualities of a good human resource professional. Without these strengths, HR professionals will face extreme difficulties in getting tasks done by their teams.
Therefore, good HRs have years of experience in communicating with people from different walks of life. For example, there could be seniors, juniors, or a workforce with difficult personalities or disabilities – the possibilities of different communications are endless. 
But they are not afraid of having conversations with a purpose with their staff members. Ultimately, HRs must conduct open, transparent, and powerful engagement and collaboration between teams. 
This could be only possible with the right tech tools (uKnowva Social Intranet) anchored with conversational and persuasive expertise.
Conclusion:
Eight qualities of a good human resource professional discussed above are interesting to read. We had a great time interviewing our HRs to form these points. If you're an HR, you might relate to these points. 
Develop your enormous and proficient HR skills by re-reading those points combined with the tech your firm might need. 
Contact us today for uKnowva HRMS free instance.