A payroll software compensates your workforce on time. It meets your firm's every distinct remuneration and expense management need. Though, such a system must be fully accurate, secure, and reliable for delivering on those purposes. 
So choosing the right payroll software for your organisation is an educated decision. You must learn the pointers listed in this blog post first. 
Then, you have ample knowledge to make a financially sound decision. Later, you can recommend the best payroll management system like uKnowva for saving on investment and management costs.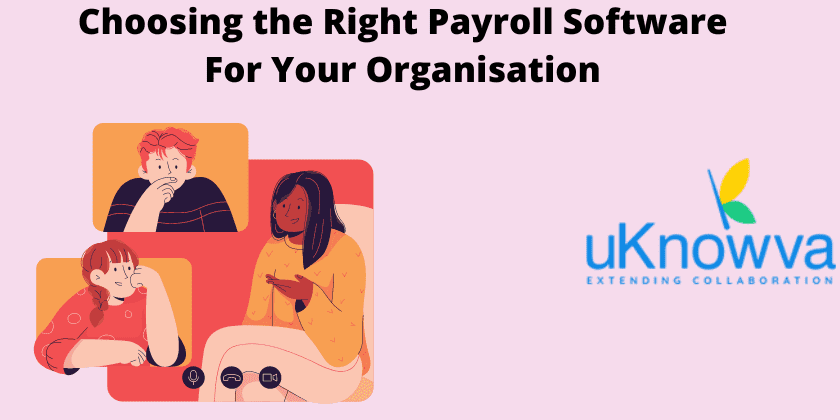 6 Tips To Choose The Right Payroll Software For Your Company Today:
Easy and secure framing of policies:
A payroll software must provide enough facilities and features to frame compliance work and policies. Because most payroll errors execute the wrongly narrated and established policies in the software.
It usually happens because of ambiguity in the understanding of the policy work. Often, payroll software is too hard to understand for new-age HR teams. But the perfect system to choose must enable teams to:
Set an overview of the payroll process.

Set apart employee classifications for salary purposes.

Create transparent rules for employee reporting and daily check-ins.

Set rules for calculating on-time salaries. 

Establish criteria for promotions and deductions. 

Triggered responses to rectify payroll errors. 
Framing and establishment of these payroll activities must be easy, secure, and dependable when choosing a perfect software.
Install a payroll schedule:
The perfect payroll management software enables you to set a payroll schedule for paying your teams and employees on time. It could be similar or entirely different for part-time and contractual labourers. 
It depends on the paying policy the company follows. Whatever the case is, the software must allow HR teams to set different and distinct payroll schedules on demand. There must also be a provision to regularise, edit, and audit the schedule whenever needed. 
This payroll schedule will optimise the payroll activities to pay employees on time. In addition, it will reduce payroll errors, duplicate payments, and other human errors. 
The payroll schedule must be notified to the teams and employees. They can then manage their financial commitment based on this schedule. In addition, the software can help HR teams to send notifications about the payday if the employees are scattered around places. 
Allows you to update taxation policies in the system:
Choose that payroll software where you can update, upgrade, or edit the existing taxation policies. Depending on these policy terms, salary payments of employees in bulk are possible and simplified. 
According to these policies, tax deduction amounts can be deducted from each salary slip automatically. The same should be the case for foreign employees if you are hiring any. 
So the system should be that flexible for you to enter different state and country taxation policies. The system will then integrate the employee location data with these policy terms to deduct and adjust tax amounts in their respective salaries. 
This intelligent payroll software helps HR teams save lots of manual hours and efforts in the long run. HRs no longer calculate each salary amount individually by cross-checking the same with heaps of paperwork.
The system executes the same paperwork in the backend and on the cloud server within seconds. These tax obligations also directly influence the:
Remittances

Employee insurance amount

Payroll deductions

Salary hikes or promotional bonuses

Pension amount 
So HR persons have to be smart enough to familiarise the software with the taxation policies to simplify their payment calculations.
A software that is available on the cloud with excellent accessibility:
You need a perfect payroll software available on the cloud server. The days when HRs need to download and install heavy CRMs and PMS software are long gone. There's no need for that tedious process anymore.
With the log-in credentials, HRs and employees can log into the system from literally anywhere. These systems can be compatible with modern mobile devices. Their compatibility upgrades with each new launch in the market. 
This function improves the accessibility and usability of the software by different HR teams operating in the same organisation. 
Your HR teams can check payroll issues and errors, modify them on the spot. They won't need to go back to their office system and check on the errors. 
This facility allows workers to work and contribute from remote locations as long as they have a stable internet connection. The computing system would not lag as there is no download requirement from the server's end. 
Ensure that payroll aligns with registered employee data:
The right payroll management software to choose is the one that aligns with existing and upcoming employee data. After all, HRs seek the assistance of such a software because it saves time every day. 
So you must look for this feature in the new-age and digitally transforming payroll software. Otherwise, there's no use in spending and investing loads on a software that cannot automate the salary payments each month. 
Additionally, this software must allow admins and HRs to edit, regularise, and modify employee data. It should be before the payments are sent across to employee bank accounts. 
This way, HRs can easily overview the salary amount and rectify the erroneous employee details without prolonging the task. The system must also highlight the last changes made in the system for admins.
It will boost transparency between teams. For example, it shows how each HR person checks and approves other employees' datasets. 
This relates to educational qualifications, experience certificates, skill certificates, and other documents verifying the employee's credibility.
Live reports to predict and forecast trends:
The right payroll software for your firm must highlight and generate automated live reports. It shows predictable trends and recommendations to make payroll management more efficient in time. 
It can highlight employees getting the right pay and outliers in the system regarding salaries, if any. The system can notify the admins in terms of errors, mistakes, or misclassifications too. Admins have to set triggered actions and responses for that to happen from the backend. 
Conclusion:
Follow through the 6 features that must be present in the future-ready payroll software for your firm. Then, try and invest in payment tools with all those features to give a delightful experience to each onboarded user. 
uKnowva payroll system is one such prime example, though, to meet all your above-stated needs out of a system. It's cloud-based, backed with AI and NLP intelligence.