Team uKnowva recently conducted a panel discussion on the topic of "Partnership of HR and Tech to Bring Excellence'' on 18th March 2023. Key industry leaders like Madhavii Lall (Head – Human Resources, India at Deutsche Bank), Nitin Khurana (Global Talent Acquisition Head at Indegene), Vicky Jain (Founder and CEO of uKnowva), Ranu Parwal (Founder of Acura Solutions & SkillsConnect.in), and Sunil Kabra (Director at Ace Human Capital) joined in this webinar with keen interest and industrial expertise. Bistriti Poddar, Chief Communication Officer at uKnowva, anchored this game-changing webinar.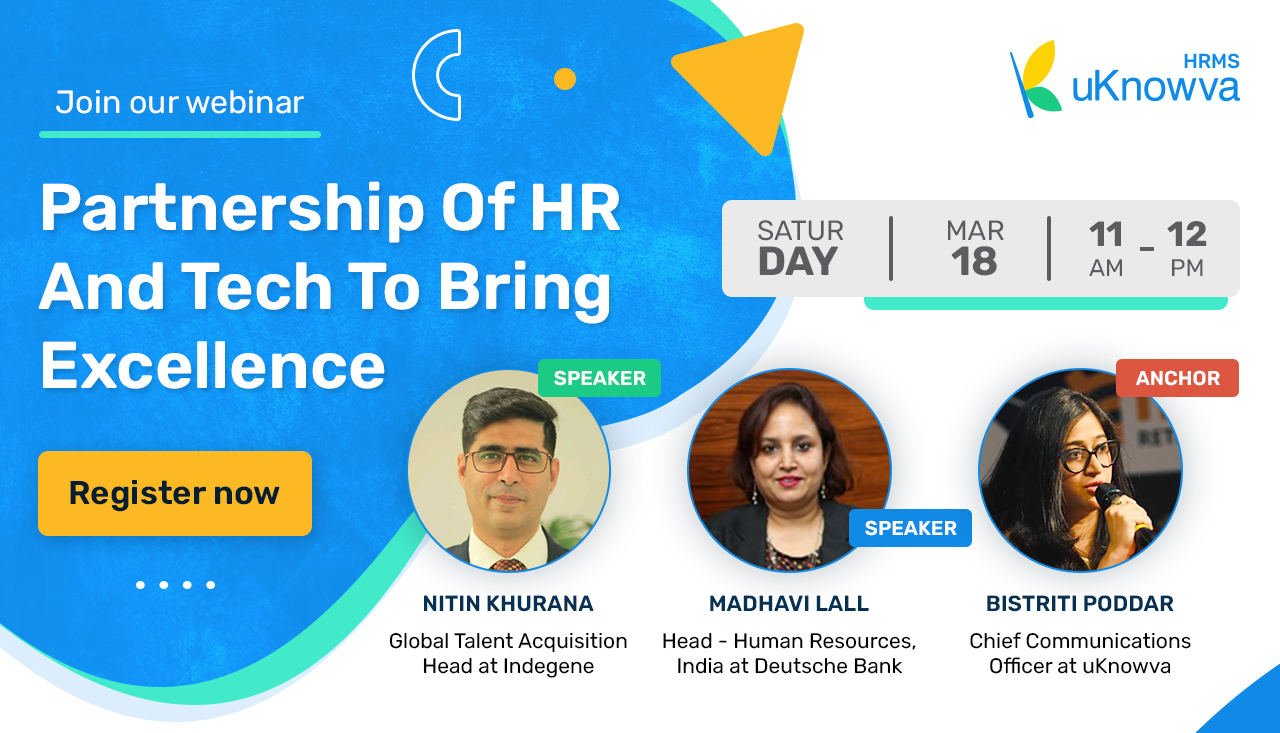 Partnership on HR and Tech to Bring Excellence Webinar Recap:
Madhavi Lall, Head – Human Resources, India at Deutsche Bank, brought up her practitioner view when she was asked about her views on the availability of HR tech solutions for employees at different levels in an organisation. She focuses her viewpoint on identifying the strategic needs of the businesses before thinking of investing in smarter talent-building tools. Then, it's HR's responsibility to gauge the talent needed to meet those strategic goals. 
"The race for talent is very competitive and comparative right now."
-       Madhavi Lall
"The days of manually cross checking heaps of CVs for a single job vacancy are over," Madhavi commented further. According to her viewpoint, today's workforce is already tech-enabled. They have all grown up with tablets and other smart devices in their hands from a very young age. When a company is not tech-enabled, such a generation of today's and tomorrow's workforce will not go to work there at all. She commented that many tools are already available for the young talent and freshers in the market to reskill and upgrade their skill set before getting hired. Each of such tools is amazing, and most of them are freely available online for students and aspiring freshers to learn new digital skills. 
"Again, we look at the automation of the process when we bring in new learning and development modules into our organisation," Madhavi took the discussion further to expand her line of thought. 
"We all understand that technology has changed the entire spectrum of HR solutions," Nitin Khurana, Global Talent Acquisition Head at Indegene, pitched to explain his viewpoint about the same question asked by our Anchor, Bistriti Poddar. According to Nitin, there is no one solution approach to everything, which clearly shows that there are multiple and different HR solutions available for different types of employees in an organisation. At the bottom line, it is more about volume, while at the top, it is more about harnessing the leadership mindset of the talent with these tools. 
Nitin commented further, stating, "We have AI-based HRMS software systems, Applicant Tracking Systems (ATS), Reporting and Analytics, chatbots, etc. You name it, and it is already there." According to him, it's important for organisations and HRs to know what really suits them and their business needs while looking for smarter HRMS tools for freshers, laterals, and those at the top management. Plus, organisations and HR professionals choose the tool that gives them the best ROI. 
"Take on technology that is not ready for today but is ready for the future."
-       Nitin Khurana
One should look for something when it is viable for you, not just when it is a trend. HR professionals need to implement this ideology in selecting the best HRMS software in India for their talent pool to work towards operational excellence. Again, that should also be a level for the talent to reach from the future perspective and not from today's standpoint. 
Talent can bring developed with proper and future-proof learning and development programs. HRs need to nurture their talented people according to the business needs of tomorrow instead of simply acquiring talent when the need strikes. This was the gist of the discussion on this question by Nitin to populate his narrative and take it forward with more industrial insights and expertise. 
"Every talent is top in my mind and everyone is trainable."
-       Nitin
Nitin further gave his viewpoints on HRs role in attracting and retaining top talent. According to him, "HR today needs to act and behave like a business and not act like a support function anymore. Hence, the role of HR is crucial in defining the skill landscape of the future, the need for talent, the talent market, and tying it all with the organisation's blueprint. It should reflect on how to hire the talent based on their aptitude and attitude more than an educational degree or scores. HRs need to identify if the talent they hire is ready to learn and grow in terms of knowledge when they get onboarded from day one."
Madhavi had similar viewpoints throughout this discussion. She commented on how managers and organisations need to develop the process to get out of their talented resources. According to her, we can close the talent and skills gap by providing 3 Es: Education (skill building and learning opportunities), Exemplary Experience (making sure to give them the right environment to work), and Exposure (assigning tougher and challenging projects to the talent according to their skill set).
Vicky Jain, CEO of uKnowva, commented that HR smart tools are necessary to bring in overall discipline in an organisation and get ahead of the learning curve. In contrast, using excel workbooks and sheets takes you ahead to maintain the level of your personal discipline. This answer was to the question asked by one of the audience members of the webinar as to why companies still prefer using Excel workbooks when smarter tools are available. 
At the same time, we heard Sunil Kabra, Director at Ace Human Capital, sharing his viewpoint on the same. He concurs with the panel on their individual views on inculcating smarter tools to expand the horizon of the team and organisational level discipline. Yet, he thinks it's still hard to do away with Excel workbooks for the Millennials and the generations earlier to that. We are habitual in using Excel workbooks and sheets. However, the transition to smarter tools is a journey to experience and capitalise on. 
Overall, the session was introduced and closed with a memorable conclusion by our main anchor, Ranu Parwal, Founder of Acura Solutions & SkillConnect. Ranu also shared similar views with all the panel members on 18th March 2023. 
Conclusion
Throughout the entire webinar session, we got to know the proven steps for HRs to initiate to welcome smarter tools in their organisations at various levels. The panel members, including Madhavi Lall and Nitin Khurana, made the entire sessions interactive and more insightful. There was enough to learn from them to know what it means to do away with Excel workbooks, how to bring 3E in an employee's lifecycle, and how to optimise smarter HR solutions with a perspective of the future of work.
Missed this webinar earlier?
Watch it on YouTube by clicking the link below:
https://www.youtube.com/watch?v=urE8YAJwVCA