There is a constant stigma around employee mental health. Those who address it in workplaces come across as negative people often. But the reality is opposite to that preconceived notion.
Addressing, identifying, and improving mental health in workplaces is important. It leads to better performances and engagement rates. A happier workforce works well with a focused and shared mindset.
But employees who do not open up about their views and suggestions on time suffer. When employees suffer, so does the organisational culture. This leads to failure in project delivery and the downfall of teams' productivity in the long run.
Talent managers must resolve this stigma around mental health at workstations and places. For example, uKnowva HRMS highlights top and low-performing employees as the first step.
The tool lets managers know about dwindling performance records. They take corrective actions from there on as a consistent process.
Let's analyse this topic below and ensure no employee's concern goes unheard again at the workplace.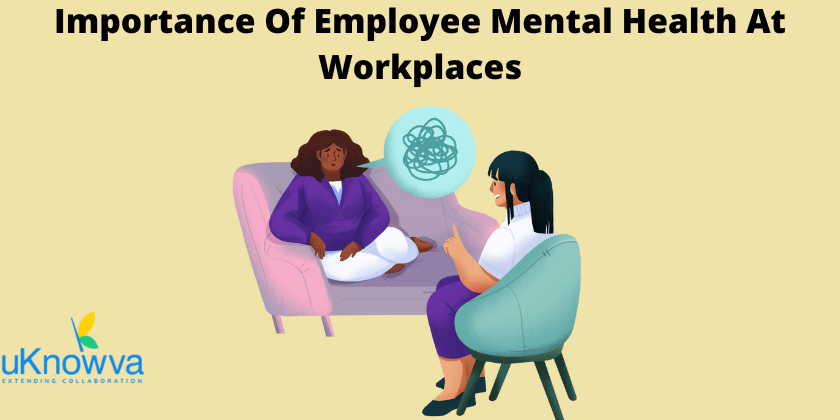 Importance Of Employee Mental Health At Workplaces With Treatment Strategies:
Ensure employees are not disoriented about which platform or system to use.
Employees have a tendency to tense a lot when they have to juggle between systems. Their mind shuts down. Many have anxiety attacks at the workplace. But a fully-integrated system like uKnowva HRMS works well.
It lets workers finish the task faster – without switching tabs or browsers. Following this procedure reduces clutter and chaos at workplaces and stations. Employees know where to click and how to reach out to the concerned person.
So, it's a strategy to improve employee mental health at work. The user experience must be easy, flexible, and appealing to the eyes.
Ensure information is accessible on time for employees to avoid stressful situations.
Workers must collect, process, examine, interpret, and utilise information quickly. They are in a hurry, often, to not miss project timelines. This pressurises their minds, and they forget to be cool in stressful situations.
However, with an on-cloud workforce management tool (uKnowva), they are at ease. The information is accessible to them mere clicks away.
They examine work-related information within seconds. It happens even when away from the system.
It means workers no longer stress over accessing and sharing project reports. Even managers effectively review and reshare news, announcements, and reports with their employees.
This reduces dependency on the physical presence of the information management system.
Workers can build their work life around their personal commitments without worries. This leads to a happier, more satisfied, and more engaged team force. Thus, mental health in the workplace gradually improves.
Simplify the workflow and ease employees' burdens.
Another reason why mental health is important in the workplace is the ease of doing business. Burdening employees with too many work goals in a week or a day is stressful. Many don't speak about it openly for fear of rejection and ridicule.
But employees need timely breaks and automated help. uKnowva HRMS is that solution for them in the digitised age of workflow.
It eases the burden on the mind when reports, reminders, and alerts are on time. No team member misses any important update, even when they are deskless. Instead, employees have time to connect with a mindful purpose over uKnowva's social intranet.
That happens because uKnowva allows them to automate their most time-consuming daily activities. For example:
Sending offer letters in bulk with minor tweaks.

Automatic salary calculations depend on the pay grade and job roles.

Integration of job portals with uKnowva's instance to post a job at various portals within a single click.

Automated highlights from video interviews to know about the intentions of the candidate to join the firm.

Automated highlights and predictions about digital skills, top-performing employees, attrition rates, etc.
Flexible working hours with full autonomy and transparency.
Employees in the age of social revolution want to work out their schedules without external intervention. They want to become masters of their life goals and mindsets. It gives them immense pride and a sense of achievement.
However, when work schedules are rigid, workers can't think creatively. Giving workers the right tools (uKnowva HRMS) is beneficial. Managers do not interfere much.
Employees set their goals in the KRA/KPI setting. They can review their project delivery rate and performance scores. Managers intervene to motivate and pump-up workers' drive to excel.
The HRMS automatically highlights completed, acquired, and pending projects. Managers need these details for timely appraisal and motivational sessions with team members.
Besides, team members grow intelligently in a firm where uKnowva HRMS assists them in smoothening their workflow. That way, there is less stress about achieving goals on time.
Employees rather set their KPI and KRAs smartly, depending on their previous known performance records. This is a strategy where transparency is a priority between teams and managers.
Hence, the system eliminates confusion concerning current and upcoming job roles and responsibilities.
Worried employees share their anxieties and thoughts directly in the chat process with managers. That's an easy way for employees to take charge of their work-life-cycle trajectory.
So, employee mental health sees an improvement without worrying about unbelievable targets to meet.
The system also assists managers and employees in tweaking KRAs or KPIs when there is a change. Again, genuineness and flexibility matter here to respect employees' autonomy and work styles.
Create a respectful work culture for everyone.
Employee mental health struggles when colleagues are too unbothered. There mustn't be a norm where disrespect goes unnoticed. Otherwise, employees feel discouraged and disconnected from their job roles.
When that emotion sets in, it only invites a downfall for the firm's culture and business growth.
Instead, managers must focus on setting organisational culture norms and policies. The uKnowva HRMS allows talent developers and managers to upload the policy on the network.
Every team member can review it whenever they have a doubt about acceptable norms. A help desk is also mandatory for solving workplace queries without greater dependencies.
The uKnowva workflow management allows digital HR communications to evolve. Employees chat and resolve their issues on time. They use polls, surveys, and open dialogues in discussion forums.
These features sincerely help organisations develop a respectful culture and ease friction between employees.
Conclusion:
We understood the growing importance of employee mental health in workplaces above.
The uKnowva HRMS is a simple tool that promotes a respectful and discrimination-free environment. That is for every worker: daily wage contractor or employee (part-time /full-time)
Contact us here for a demo of uKnowva HRMS.