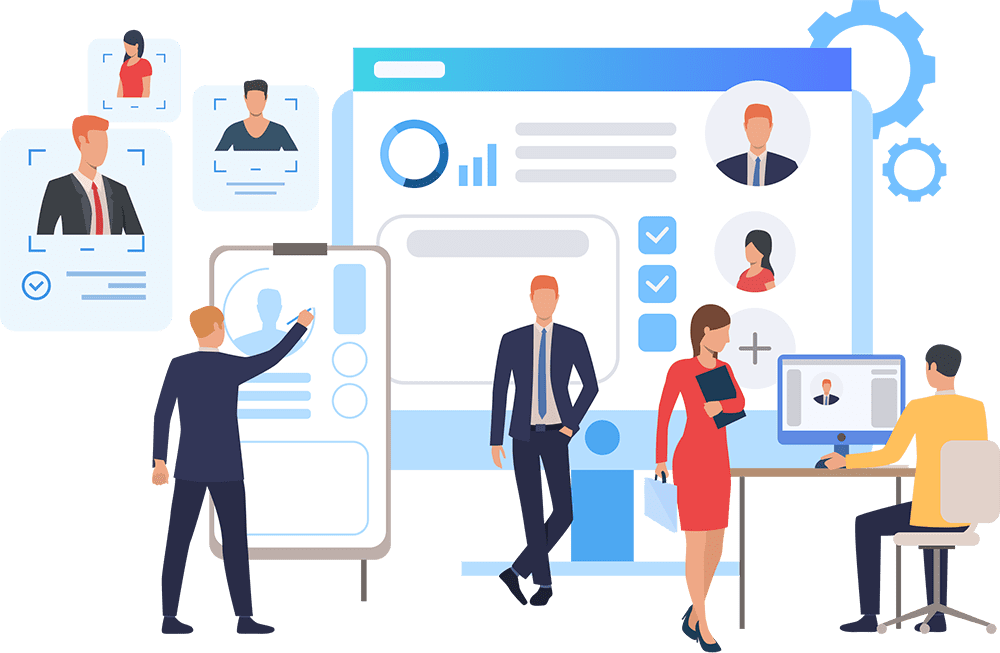 Working from home has become the standard and by the looks of it, this work style is here to stay, with up to 67 percent of employers allowing employees to work from home because of the ongoing coronavirus epidemic. Even after the COVID, several HR professionals believe that work-from-home and remote team management will become increasingly popular.
So strap up if you want to establish a strong remote workforce.
Even if you already have remote working teams, there is plenty to be done to keep them connected and motivated. With remote employees, maintaining a connection is both necessary and difficult.
It's normal to feel lost and excluded. Human resource management software, on the other hand, serves to keep everyone in the loop (HRMS). The key to ensuring a win-win arrangement for both parties involved is remote staff management.
What is a HRMS software for Remote Team Management & How Does It Work?
Software developers have produced verticals or unique solutions, the Human Resource Management System which encompasses a number of HR related fields. It is a software programme that serves as an HR management system for businesses, allowing them to handle different HR responsibilities with the help of technology.
Custom HRMS software like uKnowva is sought by businesses to integrate, manage, and automate a variety of HR activities.
It performs a variety of tasks, including organising and managing employee and business information and data that is streamlined and easily accessible.
HRMS Tasks Efficient For Successful Remote Team Management Are As Followed:
Remote team management is a need in today's pandemic-stricken globe, and HRMS makes it easier for everyone where employees may manage their personal data and employers can manage all HR activities on their fingertips with these remote teams features!
Automated HR Processes 
HR processes become tiresome and time-consuming, especially when you have a large team spread across many locations.
Your company's efficiency may suffer as a result of this. By designing workflows in HRMS software, all normal HR processes such as business approvals, significant activity notifications, projects, and organisational work can become automated!
Empowering Employees Remotely
Employees can track, manage, and maintain their own duties via an HR self-service portal.
Employees can also access knowledge resources, set and manage goals, schedule meetings, get feedback, and finish their work.
On-Time Employee Timesheet Management
Time management is another important requirement for remote work. This is mostly related to attendance, time evaluation for projects, shifts, & availability etc.
Time management can be used for the following: Project hours per employee, personal work schedule. monthly work schedule, attendance and absence quotas and activity allocation 
Enhanced Employee Engagement
According to studies, only 12% of employees believe their organisation does a good job onboarding new employees. Employee involvement is also critical for increasing productivity.
With this in mind, one might consider how elements such as self-service, an accurate and fast onboarding process, payroll administration, enhanced leave management, and so on, contribute to the organisation's goals by keeping workers engaged. Long-winded and chaotic HR operations may be reduced, resulting in increased employee engagement and satisfaction.
Human Errors are Reduced
HRMS automates multiple processes to eliminate human errors. Filing and payroll management may be automated with the aid of a well-researched and well-implemented HRMS. As a consequence, it saves time and prevents typical mistakes such as double credit, wrong pay amounts, missing deductions, and miscalculations, among others.
Protects Against Fraud
According to study, fraudulent activities may cost businesses up to 5% of their yearly income. When an HRMS is used, however, it saves both money and time when processing such claims.
There are no loopholes to manipulate this system because it is an integrated solution. To make claims as smooth as possible, each procedure is tagged, formats are accurately specified, and they are incorporated into current finance, ERP, and accounting modules.
Conclusion:
In conclusion, HRMS softwares such as uKnowva make a big difference in an organisation's efficiency and productivity, making them cost-effective and time-saving. It also automates critical HR operations that were previously completed by hand, helping HR professionals and managers to make better judgments. In general, HRMS is a creative automation paradigm in enterprises during these challenging times, particularly in managing remote workers.