AI in HRMS has the right capabilities to revolutionise HR roles and workforce autonomy. The AI features must integrate with digitally transforming solutions, to begin with. The best example here is the uKnowva HRMS. 
The tool is highly flexible, with complete competency and capability management levels to automate and streamline. 
Read the blog copy to know more. See how HR technology in the uKnowva HRMS is reshaping HR roles and responsibilities.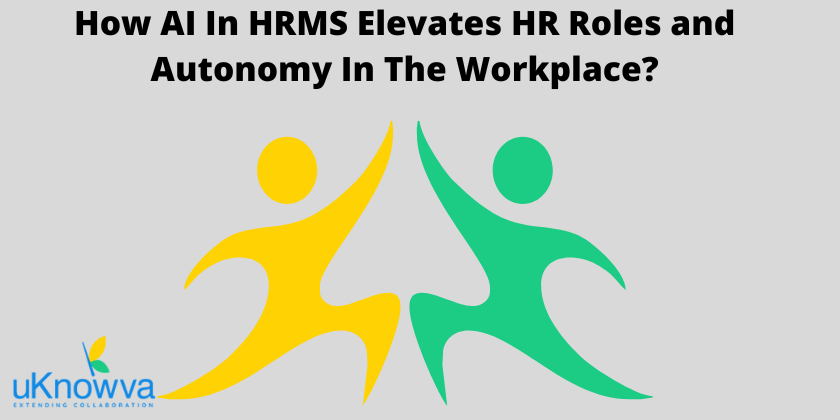 7 Smart Ways When AI In HRMS Reshapes HR Roles And Brings More Workforce Autonomy:
Streamline or optimise critical activities for employees
HR teams do not invest their man-hours in complicated activities if the HRMS can automate the same. That is where AI in HR becomes more useful. The predictive modelling in the HRMS helps judge which activity to automate. 
Admins connect with DevOps or their in-house developers. They use the uKnowva extension store plugins. Otherwise, they develop special plugins to streamline certain activities for employees to optimise their efforts.
Forecast talent shortages for better internal workforce allocation
The future HR roles and responsibilities are more critical and strategic. HR teams have to gauge and forecast talent shortages on time. The uKnowva recruitment engine insights help predict these numbers. 
HR teams can then indulge in more effective workforce allocation activities internally.
This saves their cost to hire new people who demand repeated training and development sessions. Those could be time-consuming when crucial projects are nearing the deadline. 
It is more effective to shift existing employees if they have the required skills and time. But it depends on companies and their people management policies. Some positions could not be replaced or shifted with existing staff. 
A new hire must be there. This confusion clears out with the AI in HRMS. The system discerns the workflow and workforce from the first point to the last in the process. Only then does it recommend rotations in shifts for internal employees.
Quickly read and scan thousands of CVs for advancing hiring and scouting
Hiring and scouting for new talent are super-efficient with the uKnowva recruitment engine. It has automated features to read, scan, and parse CVs in bulk. This frees hiring managers time to work on ATS instead of shortlisting CVs for hours. 
These automated features help HRs to create an internal talent pool and job portal. Scouting for new talent will be easy from the next time as necessary CVs are stored in the system. 
HRs would no longer have to look elsewhere when they already have a pool of selected and potential candidates. They can automatically follow up with them using the system-generated invitations and reminders for job openings. 
The uKnowva recruitment engine enables hiring managers to enter the right keywords for crawlers to parse CVs accurately. This quickens multiple stages of selecting and shortlisting candidates fit for the job and company culture. 
Hiring managers do not worry about manipulation and negligence. The system is free from these humanised faults.
This HR tech helps HR teams scouting and hiring a skilled workforce from day one to the last. When they hire right, the culture becomes more favourable and sustainable for employees later on.
Prescribes training modules dependent on employees' goals and portfolio
One of the most skilful HR trends which AI in human resource management helps to execute is this one: learning and development of existing employees.
The uKnowva performance management system will highlight the best digital skills to impart to your teams. These recommendations depend on your employees' current skills, completed projects, and predefined goals. 
It will help employers to implement more productive succession planning techniques for their teams. Employers keep staff happy with on-time and advanced forecasting for new training modules.
Employees feel lucky and connect deeper with their roles and responsibilities. That happens when they learn and develop new skills without asking for the same first.
The system will allow mentors or guides to upload new, revised, refreshed, and free modules. 
It will show how many employees are currently learning and the number of workers who completed the training.
The data assembles for each such activity at the backend. Hiring managers and CHROs read these insights to know the effectiveness of their hired staff.
Allow chatbots to answer generic queries 
AI in HRMS has another functionality that uKnowva HRMS meets. That is using chatbots or virtual assistants for answering generic queries of candidates.
You can avail of this function by seeking a DevOps team to make the adjustments in your firm's career portal.
These chatbots can also answer general employee queries. Using this feature will free HR and other leaders' time. They won't sit behind the screen, waiting for random queries to pop up. 
The chatbots store necessary interactions with employees and outside stakeholders. This data is important for further making strategic decisions discussed later. More importantly, chatbots make the system more self-serving and autonomous. 
It removes employees' dependency on another human for addressing the most common system or process queries. Dedicated and automated chatbots transfer the query to a real human after failed attempts to resolve the raised query. 
This process ensures that each person gets the right query to resolve without wasting time. 
Process workers' data for strategic HR decisions
Another important function of AI in HR includes assembling and studying employee data. CHROs and their teams effectively and strategically decide after evaluating their employee data. 
The uKnowva HRMS provides HR analytics and a live reporting system. Admins and C-suite leaders access this data whenever needed.
Their auditing, evaluation, and decision-making skills improve gradually by studying accurate system data. 
These people know possible retention, engagement, and attrition rates. Then the HR analytics helps them address daily business problems with data-based solutions. This works in every HR duty and role. 
That can be for:
Appraising employees, 

Knowing their punctuality, 

Ranking them quarterly, or 

Judging their performances over a period.
AI frees HRs' time to humanise the HR processes
Another smarter way for AI in HRMS is to allow HRs to free their time. They utilise it by checking up on their people realistically. They catch up with their teams and indulge in team-building and -bonding activities. 
The more humane the HR and workflow management, the greater will be the retention score. The automated tools in the uKnowva help the team to complete tasks without investing extended hours.
Conclusion:
AI in HRMS revamps the roles and responsibilities of HR and their teams daily. The uKnowva HRMS solves complex daily issues with transparency, predictive, prescriptive, and descriptive analysis. 
It makes the corporate culture comprehensive and agile to welcome new technological advancements.