Benefits of AI in HR develop effective workflow consistently, which digitally transforms employee productivity in return. Technology is already an integral part of executing daily HR tasks. With AI in HR, drawing predictions of certain employee behaviours is also possible. 
To get factual clarity on the advantages of AI in HR, let's read the listicle below. It will expand your current knowledge of how AI is making HR teams' lives better each day.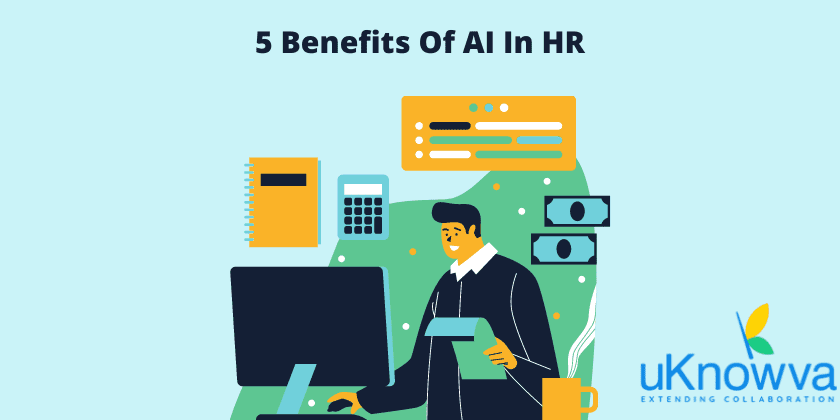 5 Benefits of AI in HR:
1. Automation of tedious tasks.
HRs switch to a smarter business solution, uKnowva for a reason: automating their mundane tasks. They no longer waste hours completing tasks that directly do not impact their performances. 
Instead, streamlining their daily task is empowering and less burdening. HR teams execute more critical tasks with greater attention as part of the benefits of AI in HR.
For example, parsing the CV, scheduling interviews, and follow-up the status can be streamlined. This is possible when an AI-based system incorporates into the HR function. 
When automated, such tasks wouldn't need HR assistance to a greater level. And HR teams' efficiency level would not be disrupted either.
2. An experience worth remembering.
The benefits of AI in HR are incomplete without sharing and offering an experience worth remembering. So employees use AI tools like uKnowva Social Intranet to have an exuberant experience. 
They can share their learning material, participate in polls/surveys, put up a topic for discussion, etc. It enhances the team's trust level in one another. Besides that, automated performance management systems play a key role in offering a remarkable experience to the workforce. 
With an automated and streamlined PMS, setting up monthly targets is smooth. Employees feel courageous enough to break their records. That is when they know which task holds how much weightage for their timely appraisal down the line. 
Surfing the entire system within a few clicks to get more done in a limited period is a WOW factor. 
It's an experience employees would love to talk about and share with their social circle. After all, the advantages of AI in HR definitely include how the technology improves the standard of living and working of employees. 
3. Employee engagement scores shoot up to a new level.
Employees never procrastinate to share and speak if they already have an intuitive Intranet system. Their concerns will be met promptly. They would love to talk about their achievements, rewards, awards, or milestones. 
Even C-level management can appreciate the feats achieved by their talented employees in a period. This encourages people to stay longer in the firm as they trust the firm's appraisal, engagement, and recognition process. 
The benefits of AI in HR here determine how well employees are treated, motivated, and encouraged to work innovatively. In addition, they will find the uKnowva Social Intranet platform to be reliable because it's highly transparent. 
The team can check what's happening in the firm or their group on the integrated chat boxes. They can share important news updates and close the follow-up loops as soon as possible.
This behaviour encourages teams to excel and outperform, also because the management can overview these conversations when added together in the group. 
This shows that each employee's opinion, suggestion, or feedback matters. With that belief, employee connection to the job and the firm increases and evolves. 
4. The recruitment process is more reliable.
Human resource professionals and their teams make the most of the benefits of AI in HR. For example, an AI-backed recruitment engine makes hiring and talent acquisition tasks easier, more enjoyable, accurate, and reliable. 
HRs can set triggered actions in the system. That would work in tandem with the job openings – as and when human resource professionals publish them on different sources. 
The bigger picture here is that their hiring sources are optimised. They save time, talent, and cost involved in the entire recruitment and staffing process. An AI-backed recruitment engine helps HRs learn from their previous hiring schedules using the insights. 
They would know which source is available, cost-effective, and provides them with a more effective workforce in a limited period. HRs can increasingly depend on timely recommendations for the recruitment process on the AI-backed tool. 
Even tracking candidates and their application is reliable with such a powerful tool for HRs. They would know at any point and on the move about the current application fulfilment rate. 
This can give them a factual idea of whether their hiring process is useful and easy to complete. 
If not, they can make improvements in the triggered actions within a few clicks to:
Set reminders,

Initiate follow-ups, and 

Roll out offer letters. 
Ultimately, their pre-boarding to onboarding steps reach the highest optimization level possible.
5. Learning literally never stops. 
The ever-growing list of benefits of AI in HR also includes continuous learning for teams. An AI-backed business solutions tool or HRMS has ample insights. It keeps generating those every day on the live dashboard. 
This teaches admins and human resource managers about a lot of activities concerning their employees. For example, they know things like efficiency rates, most productive hours, number of leaves allotted or applied for by a single employee. 
Besides that, they know which of their employees or teams are the top performers of the month or the week. It all gets gathered in the dashboard because of the integration with the system data. 
This data is integrated into the analytics when employees:
Punch in and punch out, 

Clock in their timesheets, projects, and

Complete their objectives. 
Overall, AI benefits HRs to decipher how well their employees or selected teams are performing. This forms a ground for appraisal of the teams and their employees in the next project cycle. 
So HRs always know what's the current status of their workforce. They keep learning new trends, behavioural changes, etc., in their employees using these reports. Accordingly, they can manage their workforce later, so the productivity level never drops. 
They can also decipher and gauge which employee is on the verge of burnout. According to that report, they can give incentives or paid time off. This helps employees rejuvenate their mind and come back stronger and more enthusiastic to work. 
Conclusion:
The benefits of AI in HR can be countless. The five explained above are most common and you must know if you're an HR or in their team. You can improve your daily productivity level once you know the importance of AI in HR. 
This blog post helps you educate yourself about the latest benefits of AI for HRs and their teams. Reread the blog post if you think you want to refresh your knowledge and implement the same.