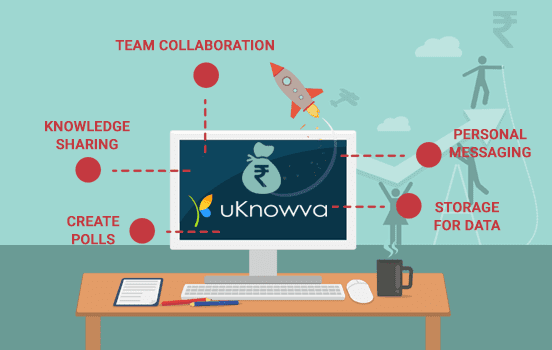 Last recession had happened 4 years ago in the year 2008 and still the financial wounds are fresh. Indian Market was taking some steps towards normalcy, but yet again the political scenario played a spoilsport and world experienced the drowning looming recession. In order to compound this problem, the existing businesses accepted many challenges of knowledge management, data storage, team collaboration, and sharing, etc. There was a huge pressure on them to maintain the competitive edge while performing and returning to profitability.
There was need of some urgent solution to fix the problem. uKnowva can solve this problem of companies which are not getting success due to team collaboration and in knowledge sharing up to a large extent. uKnowva is provided with tons of useful features that allow any company to leverage the huge knowledge of employees and provide necessary help to them in order to develop the company through new idea generation.
uKnowva is specially designed for the institutions and companies which are not able to capture and retain knowledge or maintain the team collaboration using traditional methods. This can be referred to a new generation software that makes team collaboration easier and allows companies to get a higher dose of innovation and unique idea generation. When talking about Uknowva, it is packed with 10 amazing features that simply allows users to take full advantage of it and use it whenever they require it.
Anyone can stay up-to-date with the new activity stream and can create polls, personal messages, and connect with all your colleagues through the instant messenger services. You are also allowed to store all your data in a single location as well as share and exchange knowledge base etc. The whistle-blower facility allows you to bring corrupt practices into the notice of authority and help the company in a perfect way. It has tons of customization options that provides much needed flexibility so that you can integrate your custom applications.
When you need a transformation of your industry, then it can be considered to be more than technology. Using uKnowva for any company can have a great and meaningful advantage in the long run.