Payment complexity to employees increased over the years. Old ledgers, tax and accounting books, and excel worksheets are no longer the solution for successful payroll services. 
Every small and growing business has to take care of payroll management services.
Now, this could be carrying out these services by self or depending on a payroll software. To make an educated and financially fail-proof choice, consider the difference between the two below.
At least that gives you a grounded start to pick a tool offered by uKnowva with the best of your mind and mood.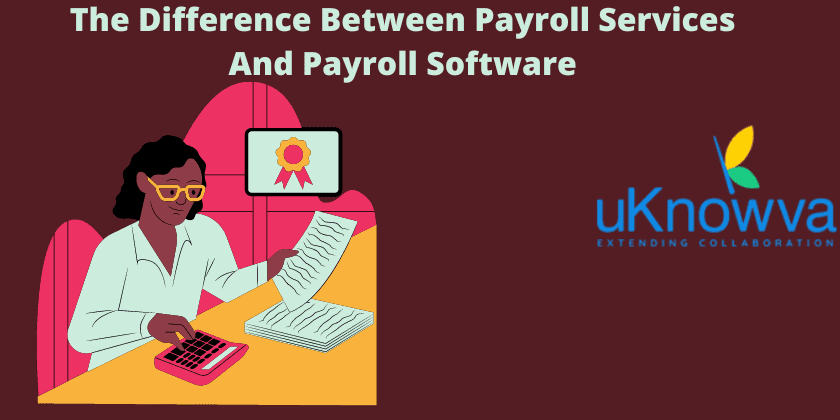 Learn The Stark Differences Between Payroll Services And Payroll Software Below:
Payroll Services
Outsourcing payroll services is an option for companies to hand-offs from these operations. 
Third-party companies are available in the market for HRs to outsource financial tasks. This can also include managing every payment of your entire workforce from day one to the last. 
Such companies can handle any payment for different labourers and workers your company hires.
You would have to explain the tax laws your company adheres to, especially when you deal with international clients and the workforce. 
Availing of these services can be monthly, quarterly, or as desired and written in the contract. 
These companies charge handsome fees for online payroll services. But know about their pros and cons individually below. 
Pros 
1. Easy management of funds:
The biggest pros of a full service payroll are that your company doesn't need to tackle it.
Instead, the third party would work out the finances and payable remunerations based on the integrated or supplied employee data.  
Your company HRs would have more time to focus on other key roles of their profiles. These could be hiring, managing, and engaging the workforce to complete their tasks on time. 
2. Assistance like nowhere else:
At present, your company might not have competent HR professionals and teams. That is most likely to happen at the starting years of commencement of the company.
That's why outsourcing payroll services is a factor to leverage on. 
Third parties offering online payroll services have advanced software and tools. Moreover, they pay for such services in bulk.
So handling a single client and their entire workforce's salaries and wages is not a problem. 
Cons
1. Exhaustive costing:
The downside of payroll services, if you outsource them, is the total cost. It's quite exhaustive and demanding. 
You have to keep paying the third-party vendor or service providers. That's for calculating the salaries on time with extra benefits like rectified tax deductions, salary slip generation on-demand, etc.
However, often vendors offer subscription models for payroll software services. These are for a limited period, though.
Eventually, for a smooth and seamless experience, your company has to pay them continuously every month. 
These third-party companies might offer bundles for business groups too. But, again, those plans are costly and unsuitable for growing companies with tight margins.
Payroll Software
Companies and HR teams can individually use online uKnowva payroll software. They don't depend on external vendors.
It already offers them an ESS portal for the self-serving and self-reliant nature of teams and employees. 
Such online payroll service software is often reliant, internal, integral, and interactive. Learn more about them within the framework of their pros and cons below.
Pros 
1. Easy management:
The software offers full service payroll department needs in a company. It's, for that reason, easier to operate thoroughly. Plus, there are no middlemen or external vendors. 
HR teams can access the software if they have the expertise in managing workforce salaries on time and in bulk.  
2. Automate payroll services:
Automation is one of the leading benefits of investing in the next-gen payroll software. Using it, HRs and their dedicated teams don't fret over trivial payroll tasks. 
The tool can assist them in creating a live dashboard, salary slips, rolling out salaries on predefined periods, and integrating employee data automatically.
3. Third-party app integrations:
Another advantage of using a payroll software is the easy and fast integration of the tool with other apps.
A company must be using different tools like CRMs, PMS, VB (Virtual Biometric), Microsoft Teams, Zulip, etc. 
But such a modernised tool, uKnowva offers, gives you the benefit of integrating all apps in one network. As a result, you don't have to go back and forth between multiple apps, as that is time-consuming.
Instead, resolve payroll queries, share valuable content, ask for a popular opinion from your teams, etc., within one system. 
4. Accessibility is on the move:
With credentials, HR teams can access the software whenever they want to. Location doesn't matter, and neither does time.
They need a stable network, a working mobile device, and the correct credentials for their account on the software.
After that, they can use the payroll tool available on the cloud to execute all necessary payroll services for the day.
It means there is no hamper in work quality and workforce pay management at any given time. 
Cons
1. The learning curve might not be linear:
Not every internal staff is handy on the computer, on-cloud tools, and modern technology. They will need time to understand the growing perks of a point-and-click system accessible from anywhere. 
And as trends change, so must the interface, deliverables, and objectivity of these tools. At times, dynamic changes might be difficult to understand for people who aren't tech-savvy. 
Thus, the learning curve for the inexperienced HR teams here is non-linear mostly. They have to be adaptable, agile, and ready for new changes in the system and the HR policy. 
2. Human errors for triggered actions:
While managing online payroll services on an automated tool, HR teams can fill in erroneous triggered actions and responses. This can lead to wrong information, analysis, and interpretation about the staff and salary. 
Thus, admins have to cross check the system and its history. It helps verify the ID that initiated a change in the system off-lately.
However, that's one more task for the admin to look after when HR teams are new and at a beginner level to monitor/operate the system. 
Conclusion:
I hope that new-age HRs and their teams understand payroll services vs. payroll software differences from the blog post above.
This is an important information to learn before your company invests in software for managing the workforce and their pay on time. 
At least you now know the pros and cons of each side. This makes you smarter, like the uKnowva automated payroll system.
Lest, reach our sales team for a detailed demo on each one's pros and cons explained above.