The business environment is growing complex every day. The HR tech demand is increasing with it. But more focus is also on a blended approach to introduce humanity to automated tech. 
Without infusing the people-centric approach in advanced HR technology, we will be building highly robotic workplaces. It will make connections and collaborations impossible without the intervention of humans. 
But when the robotic technology in HR satisfies the flawless employee experience, the output is unprecedented. Employees leverage this approach to stay, endorse the brand, promote the business, grow in careers, and do much more. 
They act as superhumans when robotic, and smarter HR tech assists them in completing mundane tasks within clicks.
This blog post shows you how on-cloud uKnowva HRMS is one of those digital HR solutions for HRs. It points out how this tool can help bring tech solutions closer to humanised efforts and approaches.
After reading that, it's easier for HR firms to evaluate the people's capability maturity level attained by their existing HR tech tools. So without delay, let's read and see what uKnowva HRMS offers for a blended approach in HR workplaces.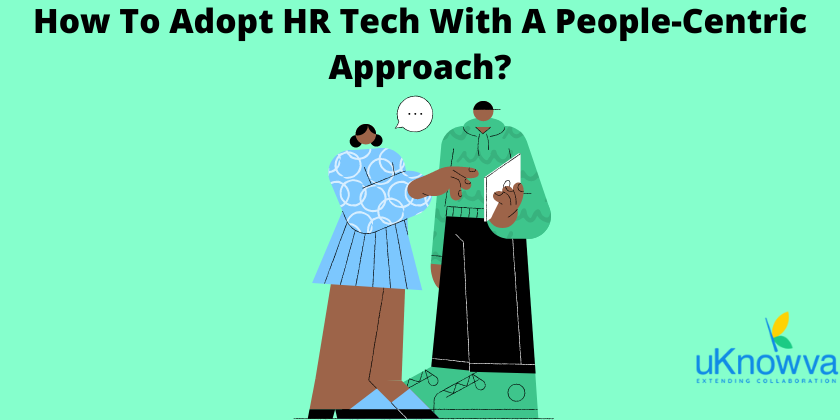 Strategies to Adopt HR Tech with a People-Centric Approach:
Build more inclusive workplaces.
A blend of touch and technology is no better than evolving the workplace. HR executives must incorporate smarter cultural norms with a zero-tolerance policy for harassment, discrimination, or boycott. 
Plus, the introduction of uKnowva HRMS boosts the transparency of the work culture. Teams connect online even when their workstations and time zones vary. This culture builds the importance of valuing and respecting employees from dissimilar backgrounds. 
Using HR technology to boost equity and equality is a prime example of a robust workplace. 
Take critical and decisive actions.
CHROs and their teams take decisive actions more easily and effectively now. That is after the emergence of HR and people analytics. They no longer have to study human behaviour and attitudes at workplaces for hours. 
Rather, they leverage the HR tech features – most found in uKnowva HRMS – to solve daily business complexities. This critical step removes bias and negligence. The data is real-time and accurate to run diagnosis of team productivity and performance. 
Blend workforce autonomy with automation.
Another amazing strategy to follow is to blend employee autonomy with automation. That is the reality of the HR world today. People depend on smarter workforce management tools to ease their daily burden. 
Their deliverables are still on time. But employees have more time to tap into their inner feelings or motivational drives. So we can say they have enough time to pay attention to what matters now. 
Simultaneously, HR automation completes the tedious work. Examples are many:
Sending automated meeting reminders. 

Sending automated emails to responders, subscribers, applicants, etc. 

Running analysis of each employee's productivity and performance in the background.

Automated recommendations in the HR analytics to list the best employees and teams. 

Automated onboarding for new employees using Aadhaar Card. 

Full integration of various job portals with the instance to publish job postings on numerous platforms at once. 
Construct & deliver tailor-made employee experiences.
HR teams must ensure to deliver similar and bespoke employee experiences at every level. For example:
Give flexibility to work-from-office (WHO) employees similar to remote workers. 

Give remote workers the right tech tools and guidance in-house employees receive. 
These are two examples to give an idea about the level of experience employees might expect. HR tech like uKnowva HRMS assists HR teams in delivering these experiences. 
It helps both WFO and WFH employees. That is why this tool can connect all employees on a single platform. It increases workplace harmony and respect for each other's work profile.
Prioritise purposeful corporate communication.
HR teams can boost purposeful corporate communication to blend HR tech with a people-centric approach. These conversations drive more business results and activities. Projects are on time. Respect is mutual. Clarity is at par, and empathy is measured. 
Such refinements in the communication between teams are necessary. These communications take place over open, honest, and easy-to-use platforms. uKnowva social intranet is the prime example here. 
Teams can freely discuss their concerns over surveys, streamed chat boxes, polls, live announcements (for groups), and forums. That way, everyone knows one another's minds and have a shared purpose to head towards. 
Time wastage reduces, productivity is gradual, and teams synergise their efforts to break records. That's the added advantage of having a seamless HR technology, ruled and reimagined by employees. 
Update HR policies for WFH and WFO workers.
Another strategy to implement is this one. Let your employees know the updated HR policies. It's not easy to inform everyone personally, especially when the workforce is from anywhere and everywhere. 
That means when your workforce is diverse, you need a centralised system. uKnowva HRMS is that platform to keep every employee in the loop. They get updates automatically delivered to their registered emails or mobile devices as push notifications.
No one misses the important company and HR policy updates. That way, teams know how to perform, using what tools, and who to connect with. 
In general, this practice boosts clarity and purpose at work. Plus, it saves time by bringing HR technology to deliver notices on time.
Identify mental health stressors on time. 
Advanced HR technology identifies mental stressors at the backend while employees feed their performance data into the system. This blended system is self-reliant and self-serving. However, employees need to work extra hours to maintain their workflow reports. 
Everything runs at the backend in the uKnowva HRMS platform. Super admins, C-suite management, and reporting managers overview these statements and reports. 
They check which employees are performing low or high and why. These reasonings are generally accurate because it is impossible to manipulate the workflow data. That is why managers would reimagine the workflow norms before employees burn out. 
Answer employee queries on time.
Critical and concise feedback system is a must-have feature in HR tech. uKnowva HRMS already boosts that with dedicated helpdesks. These are flexible and easy to customise on demand of clients and users. 
There could be numerous helpdesks dedicated to each division in the firm. Otherwise, there could be a singular grievance handling system. It depends on the expectations of the firm during the implementation. 
Similarly, project managers provide feedback to employees using project and timesheet management features. The feedback system goes both ways. It helps in fine-tuning the culture and internal business reputation. 
Conclusion:
There is no end for advanced HR tech to emerge as one of the best virtual assistants to working professionals. HR teams gain more confidence in the advanced tech with seamless and fully-integrated systems. 
The prime example here is uKnowva HRMS. It assists HR teams and CHROs in executing and measuring the impact of all strategies discussed above. Start exploring this workforce management tool today if you want to introduce the missing "human" factor in your corporation/company.