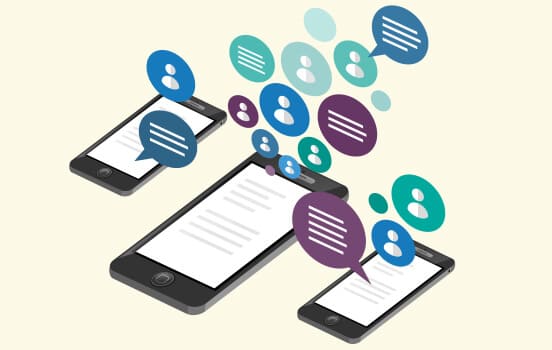 Instant messenger is a unavoidable part of our daily lives now. Whether we are at home, travelling or even at work our attention continuously gets diverted to the *ting* of the phone every time a chat gets active. While your companions would always complain about the diverted attention which is always given to your messenger, it has actually brought in a lot of convenience in life too. Easy communication, quick replies, bring people from different parts of the world together every second of the day, and easy sharing of data and photos are just some benefits to begin with. 
Instant messaging has changed the way we communicate completely. So why not replicate the same at workplaces? It's not a novel idea in fact a lot of employees and even vendors prefer to keep the communication on through popular messenger services.
But a safer and better option is to have an instant messenger which is dedicated to your company. So all the chats and data remains safe and secured within your network. Talking about the positives, listed below are the top 5 of the many benefits of having instant messenger at work;
1)Quick communication:
Time is money and the best way to buy time in the corporate world is to move hand in hand with technology. Instant messenger helps you stay swift in your communications as you can reach our instantly to an individual or a group. You don't have to wait till the time the other person opens his emails to get your response.
 2) Global Connectivity:
It's so easy to reachout to anybody sitting in any corner of the world through messenger. And if you need to keep multiple people in loop there is nothing more convenient than forming a group on the messenger. You can discuss, debate and make discussions in seconds and without needing to make long email trails.
3) Easy sharing:
Want to share a photo urgently or need to send a video to someone and don't have time to login to your email, well messenger is your quick answer to this issue. Instant, easy and secure sharing of data is possible through instant messenger.
4) Increase in communication:
When communication becomes so easy, people interact more. Instant messenger communication tends to be more productive and often leads to more ideas and conversations, increasing the communication between employees which is always a good move for any company.
5) Anytime, anywhere, any device:
Not that you can't do the same with emails, but you would agree instant messages are any day more convenient. Messengers can be installed on any device and accessed at anytime and from anywhere. Suits best for urgent communications.
Want to get an instant messenger for office? Try www.uknowva.com