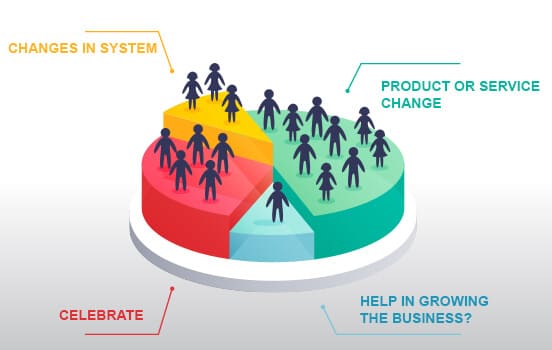 Polls are a great you to know the choices of the masses. You can use it wisely top understand your employees and get insights about the work culture.
Here are five polls you should take for your employees:
1) What changes do they want in the system?
Organization culture and work systems need to be revised from time to time depending on the need of the hour and the lifestyle of the coming generations. Rather than assuming what they need, a better idea is to ask them what they really look forward to at work. You could check if they need a flexible work hour system, a 5 day working, early leave allowance, loan or childcare facility in the company, etc. The opportunities to make your workplace better are plenty. Check what your people need by putting up a poll about the same.
2) What do they think will help in growing the business?
Although you might be the master of the business, it is your employees who understand the loopholes in your organization's functionality. They feedback about the business and their suggestions on what can help to achieve better growth are of prime importance. Get their opinion about what they think is lacking or creating a hurdle in the business, one strategy they think will work to increase growth, etc.
3) About your product or service range
Your employees are your first consumers. They are the best source for first hand advice about your service/product range and what needs to be added or removed. So before you finalise your launch, ask your employees what flavours they prefer, whether it is eatable; in case of service you can check what is that they feel the need for in their daily lives.
4) How would they like to celebrate?
Office celebrations are much more important than you think. People link to get involved in such activities and it helps establish a personal bond with the workplace. Ask your employees if they would like to go out for a picnic to celebrate a festival or decorate the office or have a visit to an NGO, etc.
5) Employee of the month
Rather than being the commander and deciding who should get the best employee award every week or month, get some feedback from your employees as well. You need not base your decision completely yon their poll but at least they will feel honoured about the fact that their opinion matters. And it will also motivate them to work together as a team so that others vote for them in the next cycle. Double win!