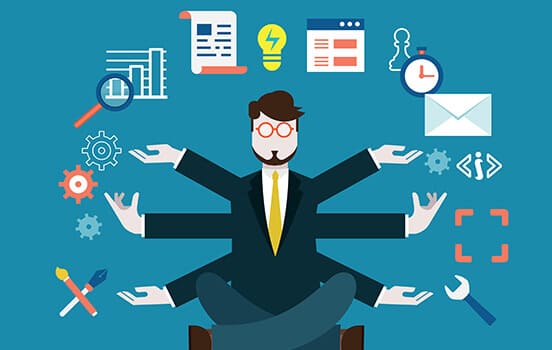 In recent years, technology has had a profound effect on the functioning of HR. However, as compared to other departments in an organization, the HR department has been slow to adopt technology for its daily functions and tasks. Now, HR is becoming more proactive and more involved in the entire employee management task.
HR is now more involved in employee on-boarding, motivation, and retention. For this, HR is getting more technology-savvy. There are now a host of applications available that cater to the needs of HR, such as payroll management, leave and attendance management, performance management, etc., and not just established companies but start-ups are also investing in HR software and applications. Let's see how using such applications and software helps start-ups.
Performance Management: HR Personnel can use technology to assess the performance of employees. Using performance management software, HR can use predefined metrics to measure the employees' KPIs; set employee KRAs in the system; and use the software to set the performance appraisal cycle and monitor it.
Recruitment: Using technology for recruitment is a boon to recruiters. Posting job openings on a single platform and having millions view them is a reach achieved like never before. Using an application for recruitments centralizes the process and makes it more efficient and faster.
Training: Technology has made training employees much simpler and easier. Remote training sessions and access to training material online has eliminated geographical boundaries. Even though personal interaction is necessary to a certain extent, the reach and the ability to train a larger number of people has increased. HR can also track the progress of each trainee through training programs and customize training programs. if necessary.
Reports: HR is one department that requires to maintain records for a long time and extract reports very often. In such situations, maintaining files of such records online or on a system is very feasible. Using a software or application for leave, attendance and time management makes saving records and extracting reports easier, without taking up any additional physical space.
Employee Engagement: A social facet to HR software and applications allows HR to post announcements to employees, stay in touch with employees and in general enable employees be more proactive in then organization.
Start-ups are investing in such software and applications so that their HR processes are streamlined and more efficient. Such software also helps in retaining employees by keeping them motivated and giving them an effective platform to voice their views. HR software, while making the HR's job easier, is now evolving into a tool that connects employees with the HR. This helps in increasing efficiency and improving decision making while increasing employees' productivity and job satisfaction.
To get an effective HR Application for your organization, check out uKnowva's HRMS.