uKnowva implemented in Gemini Power Hydraulics Pvt. Ltd.
Gemini Power Hydraulics caters to the rising needs of the industrial and construction sector by providing comprehensive solutions in India. They assist in acquiring superior products of many international industrial and construction equipment manufacturing firms in India.
300%

Better lead conversion

50%

Improvement in process management and work efficiency

1000%

Rise in internal communications

1000%

Increase in overall business growth
Challenges Faced:
Confusion and discrepancies in lead management
Zero control over accounting the business development expenses incurred while generating leads
Loss of internal employee engagement
Investigating the cause:
There was no system to organize the leads and maintain the process flow
The lack of a process also led to unregulated expenses
No common platform for employees to connect and engage
There was a need for an internal communication system to assist in sharing insights and knowledge
Strategy Devised
Integrated uKnowva in Gemini Power Hydraulics Pvt. Ltd.
Primary attention was paid to maintaining the lead generation process flow and its related tasks
Secondary focus was to build a communication platform for employees to connect among themselves as well as with the management
Our Solution
We conducted in-depth market & competitor research before executing the best practices in user experience design.
Organized Lead Management

Using the highly organized features of uKnowva, a customized online format was prepared wherein all the lead call data could be input in real time on the system and updated regularly. The system auto analyses the data, understanding if the conversion happened and calculating the time spent over it.

Streamlining the process

With a systematic format in place, the lead management, call data and the employee involvement tracking has become a matter of few clicks. The streamlined system makes work organized and leaves zero scope for errors.

Keeping expenses in check

uKnowva enables employees maintain their expense details through the system. This makes the process convenient for the employee and accurate for the employers.

Engaging socially

uKnowva's social intranet opened doors to internal communications among the employees. This not only strengthened the team but also made internal communication more effective and easier.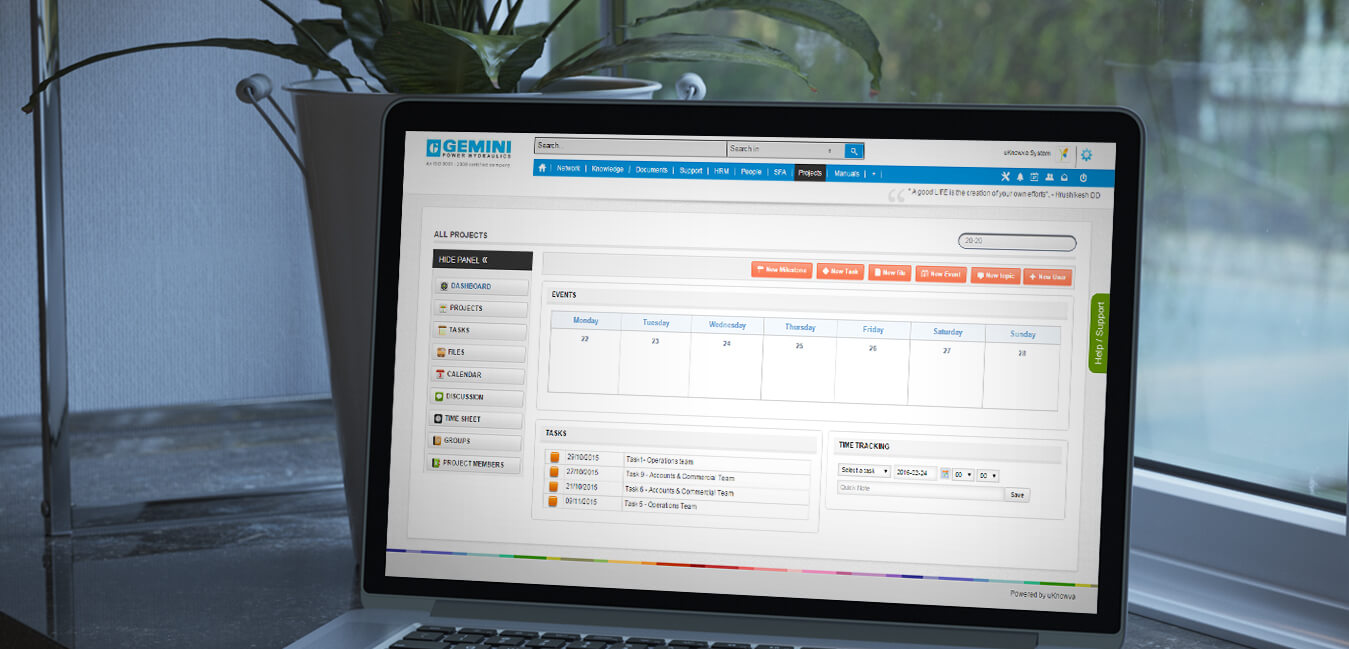 "uKnowva is stuffed with enterprise grade features to help organization carry on with their daily business activities in a best possible manner. It has helped us bring our entire organization on a single platform and also automated many processes like logging call reports, expense sheets, leave management, task management, document sharing, etc. It has helped us improve our internal operations and thereby improving our overall efficiency."
Key Stats
300%

Better lead conversion

50%

Improvement in process management and work efficiency

1000%

Rise in internal communications

1000%

Increase in overall business growth
Departments benefited
Buiness Developmet: Systematic data management of leads has led to better and faster conversions.
HR:Increase in overall employee communication has improved the work culture.
IT: Implementation of a systematic IT setup has streamlined the work process.
Operations: Ease in managing franchisees has helped keep uniformity and faultlessness in operations.
Finance & Accounts Call logs and expenses for every lead handled are maintained systematically.