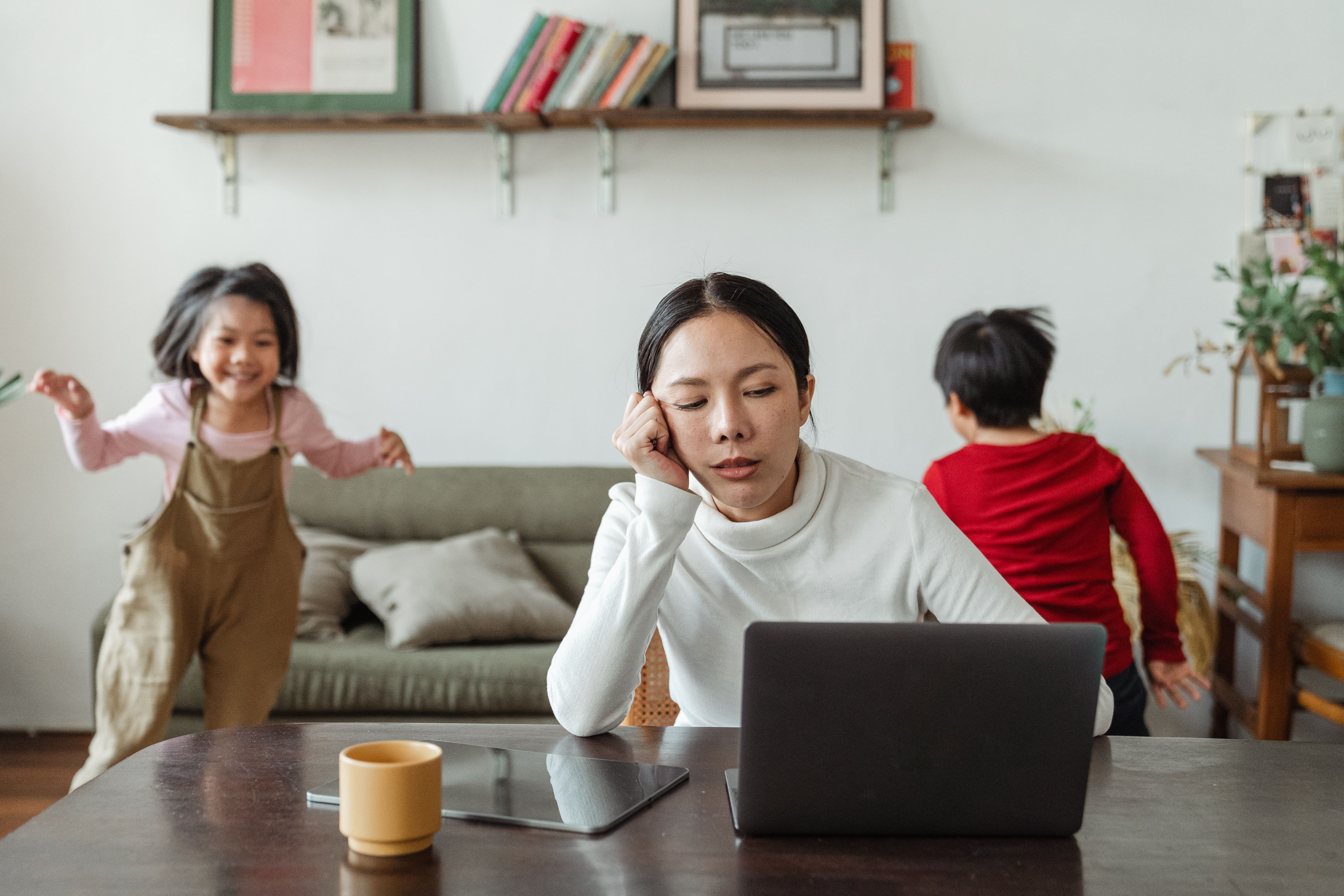 Okay, don't panic. You can do this. How difficult can it be? Chop the onions into slices and add water to the spices to make gravy'.
'I have a zoom meeting in 5 minutes. Okay, I will leave it to cook for 15 minutes, I will be done with the meeting by then.'
2 hours later..
"Mom something is burning"
"………"
"Do you want to order a pizza?"
"Mom we are in a lockdown."
PART 1 - THE STRUGGLE
Covid 19 led to popularising the work-from-home culture, whilst silently adopting "work- for-home" culture along with it.
To be honest, I was kind of relieved when the lockdown started and the offices shut down, and we had to work from home. I was so happy that finally, I will get to spend some time with my family, connect with the kids, and finally be totally involved in everything they did. For a week, it all seemed so easy, managing work, the kids, and the house together. It was probably because this wasn't my normal, so it was exciting for me to help my children with their Maths homework while making them pasta and cookies.
But over time this started becoming a heavy burden on me. Cooking while managing a team presentation wasn't really as easy as it seemed. Helping the children with subjects I hated back in my childhood wasn't easy either. Keeping the house clean and keeping track of the groceries while trying to close a deal was becoming a challenging task for me.
While washing the dishes, my mind would often wander, and I would reminisce about the good old days of my house-help Kanta's Elaichi chai, and those ready to eat dinners.
Everything that connected me to the world outside my house had been shut down. I realized how dependent I was on the efficient services provided by different institutions to run my life. Starting from the house help. My house -help Kanta. My dearest Kanta. How I miss her and her usual racket she made every morning while washing the dishes while making me her special hot 'Elaichi' Chai. The kids' nanny used to pack their lunches and mine. And then drop them at school. Always on time. They had never been late to school.
She would shop for all the groceries to cook dinner for the family, and every Friday she would make us a special dessert too. When she would take the day off, Kanta would drop the kids at the bus stop, and in the afternoon, she would escort them to their daycare centre (it was an excellent one, which provided lunch and tuitions too), from where I would pick them up in the evening.
PART 2- DIVISION OF LABOR
Don't get me wrong, I am all for taking care of my children and being a house mom for them, it's just that, it is difficult to keep changing gears every 5 minutes, from mom to manager. Seeing that I was about to crack under the stress of having 2 equally important roles without any help, my husband stepped in with a solution that really eased our lives till the end of the lockdown. This is something I really liked about this lockdown. Society's age-old idea of women doing all the household chores was disappearing. Finally, men and women were at par in parenting and cleaning.
He came up with an alternate solution, where we can split the chores, and the kids' homework every day. So on Monday, if I was in charge of the cooking and washing the clothes, he would help the children with their work, and get the groceries. We would alternate cleaning the house too. I would vacuum and he would wash the dishes. On Tuesday we would switch chores. On Sundays, we agreed to not do any hectic chores, just cook a low profile lunch and dinner for the kids and take the days off. I think this work model really worked with the entire family. Also, I think my kids' like my husband's cooking more than mine, why wouldn't they, he doesn't burn onions and then try to make gravy out of them!
PART 3- WORK SHIFTS
Memes say, "Modern problems require modern solutions". I agree, our Work from Home clubbed with Proper Parenting required a solution other than swapping household chores every other day. Children need constant attention and they don't really care whether you have a board meeting, if they are hungry, they are hungry that can't wait. So like other working parents, my husband and I adopted the concept of "windowed work". We broke down our working hours into small chunks of time, allotted them to different activities. Like I worked for 4 hours, during that time my husband would take care of the children, and then we would swap.
I think this system allowed us to be good parents and work at the same time. And we didn't have to worry about the children while working too. The flexible timings and the comfort that our children were being taken care of, made our jobs so much easier because we weren't preoccupied and we could concentrate on just one thing without any hassle.
PART 4- WORKPLACE ACCOMMODATING PARENTAL WOES.
Ever since the lockdown, my company have been more considerate about the conditions and problems faced by the employees. To find quick solutions to all the employee woes about the challenge of 'work-home', they held short surveys to segregate the employee population into sectors and come up with a creative solution for all.
Coffee & Work:
For instance, a company's survey showed that 60% of the employees were parents, and were facing issues like lack of focus during the set working hours and extreme exhaustion. At uKnowva they came up with flexible working hours and virtual coffee breaks. (I really look forward to those, I get to gossip with my colleagues like old times).
Social Platforms:
My company also has developed platforms (uKnowva's Social Intranet) for its employees to join and interact with kindred souls. These platforms were made to increase interaction which bettered the performance of the employees, at work, and at home.
Timetables aren't just for schools:
Here's something I never thought I will have to do since I passed the 12th grade- Follow a timetable. But it's the pandemic, anything is possible. Many companies organized timetables for their employees, giving them enough free time while doing justice to their work. My company sent us timetables too, and I couldn't complain, it was so much better than the haphazard work schedule that I dreaded. While my children were following their timetables, for their classes, I had my schedule cut out for my work meetings.
All in all, I found it so easy to manage work and my house during the pandemic, thanks to these schedules and the coordination between me and my family. Our days were productive and memorable. And the lockdown period seemed like it had whooshed past us as it felt like days and not months since we had been in quarantine. I feel that this pandemic ended up bringing out a better side of all of us. It made the men in our family contribute equally to household work and mundane chores. And we women got to spend time with our families and not quit our jobs.
Nevertheless, I did miss those gossip sessions with my colleagues, the going for coffees behind the boss's back, and the insanely long trips to the washroom because that was the only place we could use Instagram and console a fellow coworker over a broken heart. My husband learned how to make pizza because Dominos was closed (the government should add it to the list of essential items), but I still yearned for those pizza parties after we closed a big deal.
The best part about Work from home? I learned how to not burn water while cooking, so now my children like me a little more than they did, at the start of the pandemic.