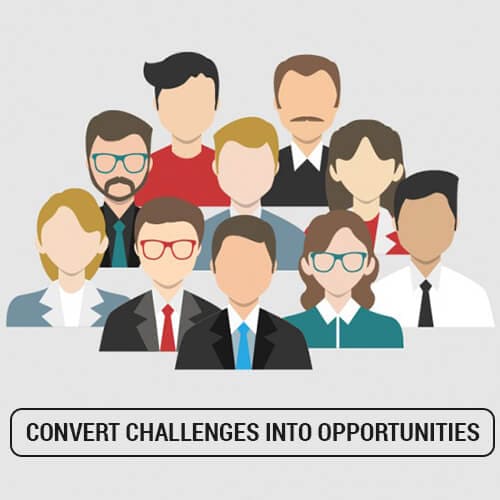 Enterprise Collaboration Software was introduced with an objective to bring employees on a single platform and to facilitate seamless collaboration among them on everyday business tasks and achieve higher productivity. The idea was phenomenal and soon IT companies started to launch collaboration software steadily in the market. The advent of cloud computing and social networking in mainstream offered extra dimension to enterprise collaboration software. As the new collaboration tool featured an extra layers of social networking features like creating personal profile, activity stream, commenting etc. Though the software offers tons of benefits it is still not catching the way it should have been in today's growing enterprise software segment. ERP, CRM, Customer Support Desk, HRM etc are few of the enterprise software that is still in high demand.
Some of the reasons why adoption of Enterprise Collaboration Software is still a great challenge in many organizations.
1. Not Taking Top-Down Approach
When using collaboration software it is important that top management take active participation in using the software and set an example. When the management uses collaboration tools to achieve their business tasks it sends a message to the employees the importance of the tool. For decision maker it is important to show trust and faith in what they do and if they have chosen enterprise collaboration software with an objective to achieve their business goals then what's the better way to use it. Deploying feature rich collaboration software in the organization and expecting others to use it is futile.
2. Not Taking Employee Opinion before Implementation
When the top management decide to implement an enterprise collaboration software in the organization they rarely include employees in the decision making process. The decision is always taken behind the closed doors with a bunch of c-level executives. Though it may look rational but the truth is it's not. General opinions of employees who are supposed to use the software should be taken into consideration this can be done through different methods like team meetings, polls, surveys, one-to-one meeting etc. Their opinions may offer some new insights on how better to leverage the collaboration software to accelerate the work productivity. Although the ultimate decision rest on the management but having employee participating in the early stages of software evaluation process goes a long way in increasing the adoption of the software.
3. Not Having a Right Strategy in Place
Before embarking on the deployment of enterprise collaboration software it is important for the company to have a long-term strategy with granular level of detailing. How the software is going to benefit each team? Should you go for cloud or on-premise version? What is the long term ROI? Whether the software is scalable? Like this many questions need to be answered before deploying the software. When there is no long-term strategy in place then adoption of enterprise collaboration software is bound to fail.
4.Not Offering Custom Made Solution
When using enterprise collaboration software it is important to keep in mind that different processes requires different features in the software. The native features that come with enterprise collaboration software may not always work for the current processes in that case having a customized version of that feature or application is must or else the adoption rate decreases significantly.
5. Not Offering Regular Training
People resist change even if it's for their own good. Implementing collaboration software causes a shift in their everyday routine and this cause resentment among employees. To encourage employees in using collaboration software having a periodic training session is must. Each of the sessions should discuss how better they can use the software, problem they face while using the software, highlighting the benefits they will derive by using the tool etc. Periodic feedbacks and reviews can help improve the overall user experience and will go a long way in increasing the adoption.
6. Not Incentivizing the Platform
Enterprise collaboration platform is a transformational product rather than a technical product. Incentivizing the platform is one of the best ways to increase employee adoption. Encouraging employees to use collaboration tools for sharing information, collaborating on projects help in increased adoption of the tool. Rewarding employees who actively use collaboration tool to accomplish their business tasks, who contribute their knowledge and domain expertise can set example to others and encourage them to embrace the change and use new platform.
Enterprise collaboration tools indeed offers tons of benefits to the users but putting that across employees in a simple and easy way through best practices and use cases can go a long way in making the platform a real success.