In the last few years, specifically after the pandemic, a large number of companies adopted a remote working model. They, however, had no preparation for this type of model. Without further assumption or prediction, this model became the new normal. This sudden shift forced companies to focus on training techniques for their workforce to be on the same page. They needed all of their talents to think and work in harmony. It was initially difficult for companies to bring remote workers in line with the office goers. It had to be done. There was no other option. 
Remote workers have their own demands, needs, and commitments. Oftentimes, these do not align with the office employees. The HR managers cannot buy this excuse. Rather, they have to work hard and smart to acknowledge everyone's needs and improve internal communication. 
Training techniques here play an essential role for remote employees. They need to feel emotionally connected and invested in the firm to think that they are no less than the office goers. They need to believe that the management cares equally about them. This will only happen when there are equal measures and strategies for the development of all. This includes identifying the training techniques and strategies for all employees, especially considering remote teams. 
When HR managers successfully do that, they raise the level of the workforce that works for them at a given cost. Remote teams appreciate this effort from their super seniors. So, let's not waste time and begin exploring training techniques to boost an inclusive culture and make remote teams feel important as ever. 
Considering the strategies below, and using uKnowva HRMS software to implement the same, helps managers boost workplace productivity. 
Want To Skip The Blog Content?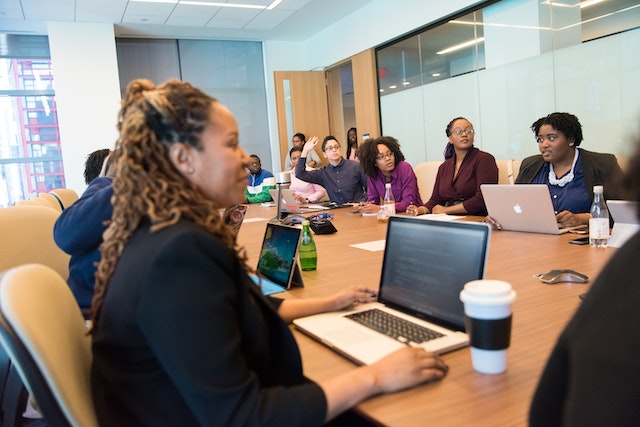 9 Training Techniques for Remote Teams – Boosting Their Productivity And Making Workplace More Inclusive
Choose a learning and development model
Learning models can be online, offline, or blended. Not everyone will be available for all models. Choose wisely. Know how many employees are working for you remotely or offline. The best solution is to roll out a survey or a poll. Let your employees decide what type of learning model they want. For a blended model, you can use the eLMs function by uKnowva. It allows you to upload courses there for your staff. Later, you can configure it to be online for a specific group of users on the tool.
Provide the staff with the right tools to train
The next step in the training techniques for remote workers and other staff members is to provide them with learning tools. You cannot expect your team to learn new-age skills without proper guidance or tools. They need the right equipment. If the skills are too technical, and the workforce is majorly remote, you cannot expect them to learn everything without prior orientation, guidance, or the right online tools. 
Make sure to upload the learning content regularly
If you think uploading one or two courses is enough in the eLMS function, you're wrong. The learning and training opportunities for your employees should not end. It has to keep going on. You need to develop a content creation module within the team. Assign people within your department for regular content creation, content vetting, designing, modelling, and uploading work. 
The team for creating content has to be strong and well-versed in the department and market knowledge. They must know why they are creating a particular course and for whom. Their mindset should be clear and based on experiences and experiments. So, HR managers have to think clearly before implementing training techniques for effective output. 
Experiment with different content formats
Do not stick to only written, verbal, or completely visual content for giving your employees training when required. Make learning and training fun for your staff. uKnowva HR management software lets you do that with the feature to upload content in multiple formats. It also accepts the scorm format for all the content you want to upload in bulk – or at once. 
Track results of the learning curves for all
The next essential step in the journey of training techniques is to track the results. You, as a manager, must check how many courses did your staff complete in a given time. Have answers to questions like:
Are they completing the course proactively?

Are your employees learning a new chapter regularly?

Are your employees asking you questions about the courses, their purposes, and their benefits?

Do you see a change in your performances after learning the course in your staff?

How well is the staff performing after learning a new technical, soft, or digital skill?

Is your team missing out on any course that they should attend daily or as per the schedule? If yes, how often and why?
These are basic questions that you need answers to know if the current learning and training is fruitful. If employees do not attend training seriously, it shows that the mentor is not effective. The same can be for the course content if there is no mentor and the course material is completely online – using recorded videos, texts, or images. 
Help employees set a learning schedule
Setting a schedule is yet another important step you cannot miss out on when you want to train your employees. It's a step that everyone must follow, despite their working schedules or conditions. If you want to train your staff, give them a schedule. Help them set a calendar up on their to do or use the uKnowva calendar or meeting rooms. This helps your staff know when the next video/audio session is going to be live. Otherwise, they can set automatic email reminders to learn new course chapters every day.
Setting up a schedule can help your team members stay on track. They do not miss important chapters to study together with other team members. 
Make the session interactive for all
One of the most prominent training techniques is to teach your staff anything you want them to imbibe with interest and enthusiasm. Without fun, interaction, live demos, or session, learning at a point becomes boring and cumbersome. So, make sure your training and development programs include interactive sessions like:
Webinars

Seminars

Podcasts

Online meetings

Mock interviews/tests

Product/service demos
Each such session must end with a Q&A round to make the training interesting, challenging, and factually right for everyone. 
Make sure they take charge of projects with the newly learnt skills
Learning and training of your staff must not end at the completion of the course. It is only the first stepping stone. That learning should be put to use. It is only through the projects that require newly learnt skills that employees can put their knowledge to the test and reap benefits later on.
Evaluate employees' performances based on newly acquired skills
The last but not really ever the least strategy in the training techniques for remote workers is performance management. It will then surely increase their productivity and make the culture more inclusive. You will wonder how that is if you don't know about the integrated performance management system (PMS) feature yet. 
uKnowva HRMS provides and integrates PMS with its core features, like the newly added eLMS. So, learning never goes to waste. Employers know who is working on which project and what skills they are learning off-lately. They know if their staff members are using the latest skills or not. These real-time analytics and intelligent reports help them make strategic decisions for developing talent rapidly. 
The Bottom Line
Training techniques are different for various people. Some people learn better with texts, visuals, or sounds. In contrast, some are true geniuses, who can learn anything from any format. So, you need a flexible system to train your remote workers to be more productive. They must not feel complacent or be put in their comfort zone. Rather, they should be ready to take on new challenges as and when they arise. For that, they need to develop a warrior mindset. It develops faster when the company provides regular training. uKnowva HRMS software helps HRs provide synchronous, blended, and asynchronous learning sessions to all at your fingertips. The eLMS function we provide is highly flexible and integrated with core functions like PMS and social intranet. 
See also