Team uKnowva is proud to announce the exciting news of our office relocation to the prestigious Neelkanth Corporate Park in Vidyavihar West! To celebrate this momentous occasion, we hosted a grand office party on April 29th, 11 AM IST, where we created unforgettable memories that will last a lifetime.
While we cherish the fond memories we shared at our previous Vidyavihar location, our new office marks the beginning of a new era for uKnowva. We are confident that this strategic move will enable us to achieve even greater heights of success and innovation. Our new office features state-of-the-art facilities, including a stunning word cloud, a creative corner for brainstorming new ideas, and lush green plants that invigorate the work environment.
The office relocation represents an exciting new chapter in our journey, and we look forward to achieving greater milestones and accomplishments in our new home. Join us in celebrating this new beginning, and let's take uKnowva to new heights!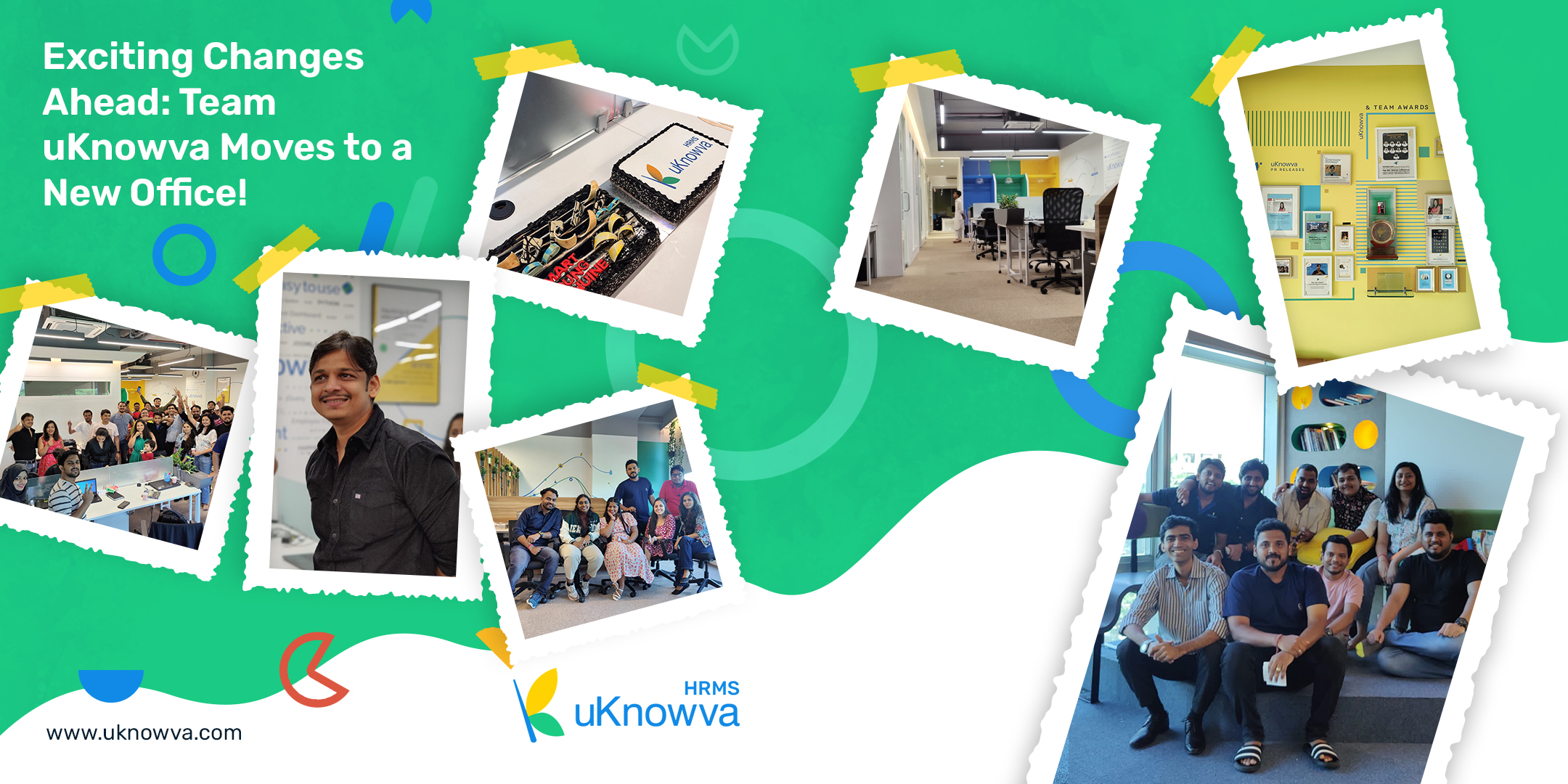 The Wall of Fame:
Step into the brand new uKnowva office and be greeted by a stunning and awe-inspiring sight - the magnificent Wall of Fame. It is a testament to our brand's incredible milestones achieved over the past few years. We owe this achievement to the remarkable leadership of our very own Vicky sir, Priyanka mam, Abhay sir and Bistriti who spearheaded our branding vertical with finesse and effervescent charm since day one!
This masterpiece of branding showcases our journey toward success and inspires us to continue striving toward greater heights. The sheer beauty of this wall leaves a lasting impression on visitors, conveying our unwavering dedication to our brand and our commitment to excellence.
Utilities that make us feel cared for:
At uKnowva, we're all about smart working, and our brand-new office is a testament to that. We've crafted the perfect environment that contributes to the way we operate with dedicated bunkers, a fully-equipped kitchen, separate washrooms, and spacious desk spaces - all designed to enhance productivity and foster creativity.
Our new office is a powerhouse of creativity and collaboration, and it's the perfect space for our team members to feel safe, protected, and heard while they strive for operational excellence in their respective verticals. With this new office, we've created an unparalleled work environment that empowers our team to do their best work.
The promise of team-bonding activities wherever we go:
We took our office party to the next level as we celebrated our move to the new uKnowva office. Our team indulged in various team-building activities like ramp walks, singing sessions, arm wrestling, and more. Our HR team, led by Rasika, Falguni, and our BDM Ameya, made sure that each activity strengthened the bond between team members and added to our presence in the new office. The energy and enthusiasm were palpable, and the event served as an excellent reminder of our commitment to collaboration and excellence.
A continuous reminder of who we are:
We're thrilled to share the exciting feature of our new uKnowva office - the word cloud. It's a stunning visual representation of the most important and relatable keywords to our brand and our HRMS.
This word cloud is a shining example of the power of collaboration, as it was created through the joint efforts of our talented Communications and Developers team members, including Nilakshi, Vaishali, and Aniket. They worked tirelessly to curate the perfect set of words that encapsulate the essence of our brand and its vision for the future.
As you walk into our new office and lay eyes on this beautiful word cloud, you'll be struck by the sheer creativity and ingenuity that went into its creation. It's a true testament to the passion and dedication of our team members, who are committed to creating the most innovative and exciting HRMS in the world.
A place for brainstormers:
We also have a creative corner which boasts comfortable benches that are coloured in the vibrant uKnowva theme, providing a calming atmosphere for anyone seeking to brainstorm new ideas or unwind with a good book. The beautifully carpeted area and the breathtaking city and skyline view outside the windows make this space the perfect retreat for anyone looking to recharge their creative batteries. 
An office for environment lovers:
Our visionary leader, Priyanka Jain, has transformed our new office space into a thriving ecosystem with plants adorning every corner. The addition of these plants not only adds to the aesthetic appeal of our office, but also creates a sense of tranquillity and calmness that fosters a more productive work environment. With her keen eye for detail and her nurturing personality, she has truly created an oasis in the heart of our new office, bringing us closer to nature and improving our overall well-being.
A place for torchbearers:
There are 3 call cubicles in our new office, named: Summer, Winter, Spring, representing different seasons in a year. Everyone who has a knack for creativity took part in brainstorming for these themes as a joint effort of team uKnowva. Many of us also brainstormed for the quotes on these cubicles to motivate everyone as and when they are making calls using these cubicles. 
At the office party, Vicky sir held a town hall on his vision and mission to make uKnowva the smartest HRMS in the world. We are dedicated to achieving this goal with our collective efforts and collaborative approach. This new office is just one milestone for us to have it all achieved one after another.
The show stoppers of the uKnowva family: 
As the day came to a halt, we were still buzzing with excitement from the fantastic team-bonding activities and the incredible memories we made in our new office. To top it all off, Rajat Pal, Vinay Panday, and Monu Pal created a beautiful ambiance with their Hindi couplets and poetries that left everyone in awe. We ended the celebration on a sweet note by cutting two delicious cakes and capturing every moment with tons of pictures. These memories will serve as a reminder to our team that we are all in this together, and we will continue to work hard to achieve our goals and make uKnowva the smartest HRMS in the world!
The Insiders of Team uKnowva:
Our talented team at uKnowva never misses a chance to capture and cherish memories, and this office party was no exception. Thanks to our skilled photographers Karan and Ashwin, we have stunning photos that beautifully encapsulate the day's festivities. And let's not forget about our incredible videographer Vishal, whose cinematic talent will ensure that this day lives on forever through our captivating video footage. Also, a huge shoutout to Tanmay for designing all the creatives for Wall of Fame, famous 5 Quotes near the creative corner, and Word Cloud. He's been the MVP - most valued player for the entire design team to get started with the desgin drafts of all the creatives across the new office.
Overall, our move to the new office represents a new chapter for uKnowva and how team effort can bring together such beautiful events seamlessly. Indeed, the entire uKnowva family is excited about the new opportunities that this change will bring and look forward to building new memories together.