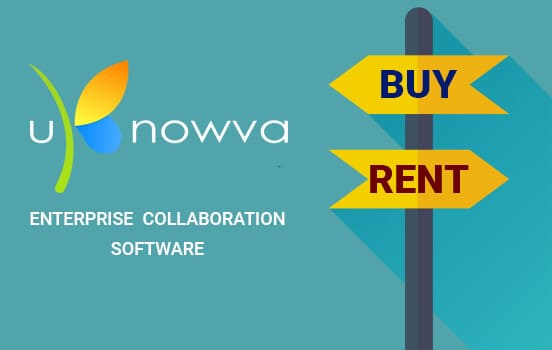 The biggest misconception that companies have about such software's is that they are high in budget and outside their reach. This may be true in case of other software's but with platforms like uKnowva they have ensured flexibility on purchase and payment by introducing a rental alternative to their system.
What's the difference?
When you purchase software like uKnowva you get to install it on your server and it becomes a permanent part of your system for lifelong. Of course the investment is bigger than renting but it's a onetime cost. However you don't miss out on any upgrades or benefits as the uKnowva team is always around the corner to assist you with the same.
When you get it on rent you pay a very minimal amount which starts as less as 1$ a month to rent all the services provided by uKnowva. You can use the software on cloud basis as it remains saved on uKnowva's server system. You are free to use the software for as long as you like by just paying the monthly rental. And there is no limit to the number of users as well.
Now that you know the difference the choice is pretty clear, but here are some more factors you should consider before the final judgment:
Size of your business
Your employee strength
Nature of your business
Are you looking at a long term business?
Are you planning to grow your employee strength?
Do your business goals need a software system like this?
Do you have enough space for server setup?
Answer these questions, and it will be clear to yourself what is the better choice for you.