The best performance management strategically reforms employees' efficiencies. HRs also assist their CHROs in developing top talents with little cost and time. 
They hire and nurture employees with shared organisational goals. With the modern performance evaluation system, they promote clarity and creativity in goals. 
Employees too exercise the advantage to set their targets, keeping their team's expected efficiency level in mind. 
Altogether, the company environment is empowering for a like-minded and diverse workforce. Their synergies matter and influence performances evaluated in the transparent, AI-backed, and fully automated online systems.
However, if you're in a fix to set up an efficient PMS with concrete company policies, refer to the blog below. It teaches you the right examples to bridge the gap between expected and delivered performances every day.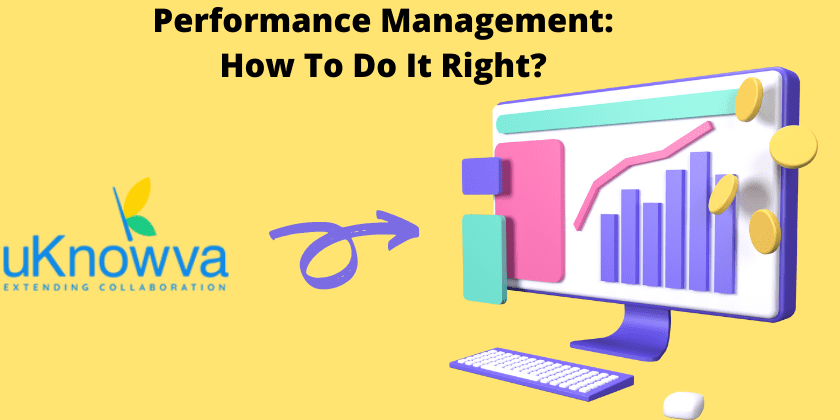 Do It Right When It Comes To Performance Management Systems In 5 Ways:
Innovation in setting up challenging goals:
The performance evaluation process is most appropriate when employees set goals innovatively. For that, the system applied or used in the firm must be interactive, configurable, and customizable. 
It should have enough features for HR persons, RMs, and employees to regularise their goals. This could be frequent when top performers keep breaking their records. Other times, teams might need to reduce the intensity of their goals due to external factors. 
But that should be normalised company culture in the firm. It is only sustainable and appreciated when the performance management system has no restrictions. HR persons must know that challenges occur all the time in the firm for employees. 
At times, they might not meet their goals fully. It could be for multiple reasons. Similarly, there are times when employees are breaking records one after another in a period. 
The system must allow such revisions. It makes the employee journey bearable and enjoyable. Plus, it adds value to the humanised factor. That's when it adjusts the scheduled goals according to the workforce's capabilities. 
360-degree feedback system:
Appraisal during the employee performance evaluation must be from 360-degree. No longer is the traditional appraisal accepted amongst the modern generation from only the immediate supervisor.
A modern worker has to team up with multiple vendors, employees, managers, and other stakeholders. A holistic approach to reviewing and rating their behaviour is a must. 
This will boost their self-esteem and make them humbler when dealing with people from different walks of life. 
They pay attention to each client and customer's needs with gratitude and sincerity. That's if they know their immediate customer/client interaction will also add value to their 360-degree appraisal. 
This performance management process creates an evident, fact-based picture of employee behaviour. 
Managers trust their staff better with 360-degree feedback because then there is less scope for manipulation. True and honest reviews and ratings will be more welcome through this system for each employee assigned to a project.
And we all know such honesty is the key to creating the best workplace environment. Employees carry the responsibility of autonomy with sincerity and complete their expected goals on time. That is influenced by the 360-degree constructive feedback system.
They can also improve their communication, people management, time management, and project delivery skills. Together, this performance evaluation system is suitable for every team and individual. 
OKR implementation:
OKR represents Objectives and Key Results. Each goal assigned to employees must align with key results expected from them. These key results are individual and team-oriented. 
Each team has to deliver certain goals together for the company to propel ahead in their sector. 
The right performance management software must give managers the right provisions to tweak each task's weightage. This projects each activity's influence on the company's growth. These two aspects must be aligned every time because managers do not want to misguide their staff. 
Ultimately, they are working for an organisation. To remain employable in the firm, they must have common goals to achieve. That's why setting up OKRs is essential while using the PMS.
Ease-of-use:
To install the right performance management system, make it easy to use. If it's too hard to understand, employees will not even engage, let alone perform. They need new HR tech tools to ease their task and reduce micromanagement. 
If the tool isn't doing that, it's possibly not suitable for your firm. But the uKnowva performance evaluation system is pretty easy and interactable. The process of entering employee details is quick and finished within minutes. 
The system integrates the data automatically to generate reports on demand for RMs or TLs. They audit and regularise performance reports on the go as it's an on-cloud software solution. 
Modern HR persons don't need to download gigantic software anymore to evaluate their team's performances. They can work at different hours to regulate their team's efficiency levels. The process to access the system on uKnowva is easy, free from lag, and loads fast. 
Thus, each user receives a better experience while using a PMS solution online. 
They would look forward to using this tool with 100+ homegrown add-ons to automate daily tedious/mundane tasks.
Helpdesk:
The performance evaluation process is incomplete without a helpdesk for employees. The system can install a helpdesk for solving individual or team queries on the spot. These help desks can be for separate departments operating in the firm. 
For example, there could be queries related to IT, Finance, Communications, or the HR department. Employees don't need to message their HR every time they face unique issues on the system.
They directly contact individual department's helpdesks listed in the panel. This reduces each staff member's dependency on the HR executive. And it works fine even for the remote and contractual staff or labourers. 
Each such help desk raises a ticket number. Employees track the status of their query using the ticket number. Otherwise, they connect with the department heads on live chat for urgent matters. The transparency remains as chats can be recorded for legal purposes. 
Conclusion:
Set up the best performance management system software for your organisation with the steps and deciding factors listed above. These steps are basic or general. Your firm might have other requirements. 
Discuss clearly with the CHROs of your firm to know what they want in their next PMS. uKnowva can surely deliver that with highly customisable solutions for growing start-ups.
Connect with our technical team here for a free PMS instance today!