Identifying the needs for training in HRM is important for HR managers and talent developers. Regular training sessions lead to an increase in knowledge, skills, passion for leading impactful projects, and more. There is immense growth for the employee when they receive training sessions for different skills and courses on time. 
Thus, HRs have this pressure to constantly recognise the needs for training in HRM. With smarter tools like uKnowva, their task is easier to identify, implement, and evaluate the learnings earned by each employee after each session or course. 
The tool we provide has an in-built eLMS function. Using that, HRs can upload multiple courses and chapters. They can change and configure different categories. We also have numerous formats to let you upload the learning content without hassle. That's not all. There's more. 
uKnowva lets you check the progress of your employees and know if the session was fruitful or not. However, why learning and training in HRM is important often comes across as a question. HRs think it is only for learning and employees might not find it interesting to learn everything on the job. 
Things are much different now. Employees spend more than 8-10 hours daily on their job. So, it has to provide them with life-learning opportunities. That is only possible when HR managers take these needs for training in HRM seriously. However, to dive deeper into this subject, let's identify more layered and strategic ways to have a stable learning program at the workplace. 
Do Not Want To Read This Blog Copy Entirely?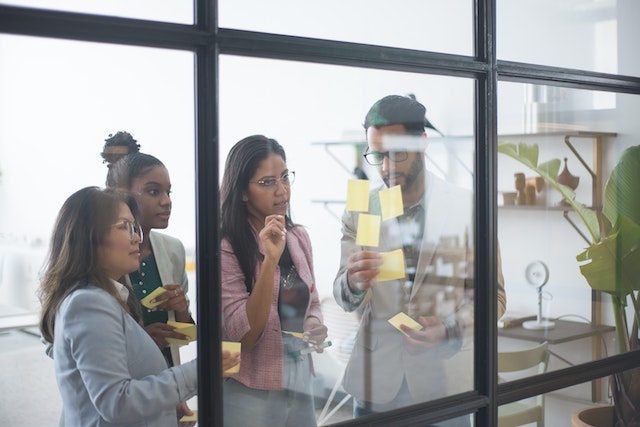 4 Core Needs for training in HRM
Improved productivity with supreme quality of work
Training makes the staff more competent. They move out of their comfort zones and learn new things every day – if the sessions happen daily. HR employees and teams need regular training to develop a curious and creative mindset. When they learn how to handle regular tasks smartly, their errors decrease. 
Rather, there is no more error, especially when they learn to automate their redundant and regular tasks without the additional cost of hiring another help. It all happens when employees start investing and implementing smarter HRMS tools like uKnowva. 
Overall, workplace productivity also improves because when employees upgrade their learning and knowledge, they handle other projects effectively. They can, for example, learn how to manage their time effectively when planning out a vacation, so their work is not hampered. 
Say goodbye to the underutilisation of resources
Every employed person has a lot of potential. Often, they remain underutilised because the manager doesn't know how to direct and coach them properly. It often happens when the manager is also playing that role for the first time. 
So the needs for training in HRM is for everyone. Even the manager can learn how to delegate duties on time and effectively. That way, even HR managers can free up their bandwidth to pay attention to timely escalations. 
Learnings and training sessions make employees more proficient. They learn how many different tasks they are ready to perform. Regular learnings are like a mirror to the resources HR teams hire. These resources realise that they can do much more than assigned. It is for the ultimate betterment of the company, its success, and its growth. This growth leads to individual growth as well when they surpass their targets and become eligible for timely bonuses and hikes in salaries. 
Supercharge employee engagement and motivation
When training sessions are online, and for everyone, it makes the learning process interesting. HR teams and executives have something purposeful and progressive to talk about. They use the social intranet as the medium to convey that they learnt a new chapter or course. The live updates can be reflected on the news feed of the intranet. 
Employees feel a rush of motivation when they know that their team members are learning the course with them. This applies to any kind of training or learning. Basically, when people learn together, sessions are more interactive, intuitive, and interesting. When employees ask a question from a mentor, they learn the concept of the skills or the chapter faster than expected. 
When employees have what they should grow in them over a period, they intrinsically feel supercharged and motivated. They want to do good in the company when they know they are receiving timely rewards like:
Appreciations

Appraisals

Bonuses and claims

Certificates

Shoutouts – on the intranet or on the social media
Companies provide these rewards for milestones like completing a tough course and project. It is up to HR managers to make learning and training in HRM easy, fun, and memorable for all. uKnowva helps them in every stage of uploading, refreshing, reviewing, learning, and evaluating the content in the eLMS. 
Make employees own up to their tasks and projects
Learning and training sessions give more confidence to employees to take on interesting challenges and projects. They learn to optimise their time and skills to invest in any project to produce better results. This strategic decision-making makes them owners of their projects and regular tasks. When employees decide their tasks, managers no longer need to micromanage them. That's how every team member becomes more important to the organisation. Managers can simply set targets after discussing them with their team members. In the long run, employees become part of strategic decision making, which improves the value of their contribution. Once that happens, they become more indispensable to the firm and to the team. It is one of the smart and intelligent ways for employees to earn their equity and position. 
So, identifying the ultimate needs of training in HRM is equally important here. It will draw the baseline or foundation of the employee's journey and experience in the firm. If employees learn and implement their skills on projects, they don't need to be told how to do their job. Rather, these high performers would like to cast a vote for improving overall team performance. 
The Bottom Line
We identified the needs for training in HRM in detail in the above post. The four needs listed above are quite essential. uKnowva helps HR teams fulfill those needs and make their teams efficient and capable of empowering others without needing assistance for a long time. 
See also