Before the modern advancements in payroll software, salary slips were manual. With a better tool, there is no more HR dependency on spreadsheets. So learn about must-have payroll software features to improve knowledge if you're an HR or in their team. 
This knowledge of payroll management tool features will make your life in HR easier. Salaries would be on time, and so would be the slips. Employees would trust you and the process more. Appraisals and audits of employee data can be streamlined.
But let's know more about what a payroll software, uKnowva, can do for your HR teams.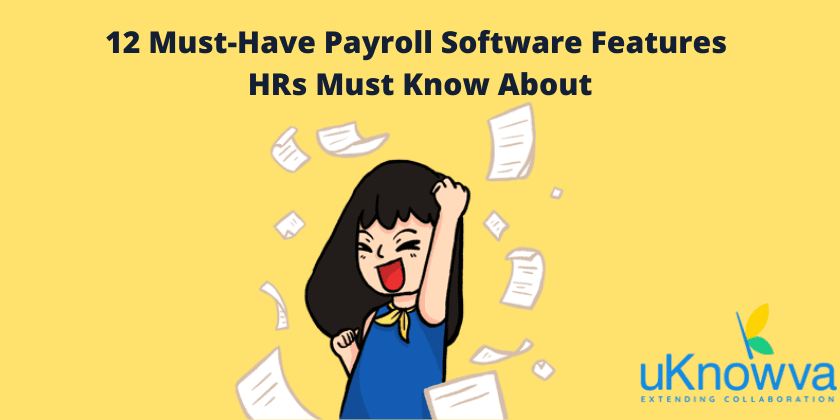 12 Must-Have Payroll Software Features To Know About:
1. Employee data integration
The latest payroll software features must include the integration of employee data. HR teams would no longer manually enter the salary-related data by having this feature. Instead, the tool can generate whatever employee data and insights are demanded by the teams initially.
2. Statutory compliance
The must-have payroll software features also include the completion of statutory compliance. Therefore, it should already mention the documents to be uploaded and required as per the Indian laws and regulations. 
This way, neither HRs nor employees are dependent on one another. The system should constantly send reminders for uploading their necessary documents. The verification of each employee is easier this way. 
Also, then the payroll software can generate documents like PF, gratuity, payslip, and more effortlessly. 
3. Live, intuitive, and configurable dashboards
HR teams need dashboards. From there, they learn more about employees than they do in person. Dashboards can easily tell HRs figures that directly impact the employee productivity, efficiency, and payroll generation decisions. 
These dashboards should be easily usable, accessible, and configurable. As each organisation has different branding and UI/UX needs, the payroll software must have that flexibility. 
4. Employee self-service portal
This portal will allow automation of publishing salary slips in the employee profiles. So the employee can access, view, save, or download their payslips whenever they want. 
With an ESS portal, an employee can also make income tax declarations and choose their tax slabs accordingly. 
Some admins might allow that provision to the employees using ESS. Whereas some might not. Company policies matter here in these must-have payroll software features. But the accessibility of fully using ESS will only improve user and employee experience at every touchpoint. 
5. Audit reports
Payroll complexity increases when the employee count hikes in the firm. As a result, HRs find it difficult to generate audit reports for all those employees at once and on time. That is why must-have payroll software features must include auditing reports. 
The analytics integrated with the system will allow HRs to edit, configure, overview, access, and download these reports on demand. In addition, it makes the process of employee data for auditing purposes easy and flawless. 
There would be no time wasted when reports are generated within a few clicks. 
6. Swift and secure bank transfers
uKnowva payroll management tool can integrate with the bank accounts of the company and employees. This way, transferring and rolling out salaries on a fixed date is possible and automated. 
HRs won't have to input employee bank account details repeatedly manually. Instead, feeding the system with bank details once would be enough. 
7. Salary structures defined
Payroll software features must include flexibility to define salary structures. Then, it should also allow you to create your formulae for calculating salaries in bulk for various employees across functional departments.
As an HR, you must define and configure different job roles and the salary structure associated with each such role. That is a task you have to execute for every new job role in the firm. But it will generally happen only once. 
After that, payroll software will initiate the salaries as triggered by the predefined actions from the backend. 
8. Integration with Virtual Biometric
Payroll generation for employees directly connects with employee leaves and attendance remarks. That is why the payroll software must integrate with virtual biometric installed in the firm.
This way, HRs don't have to manually check leaves allotted, applied, or rejected for employees. The system would do the work and calculate the salaries after adjusting holidays provided to employees for that period. 
Later, HRs can check or audit the final payslips before transferring salaries to individual bank accounts. 
9. Multiple currencies
This could be an add-on to the list of must-have payroll software features. If your company hires employees outside India, this becomes a necessary feature. Even if you have clients outside India, you need this feature. 
Then billing your clients and rolling out salaries for international and domestic workers would be seamless. However, if you're only operational in India, it's your management's choice to introduce multiple currencies or not. 
This feature will benefit you as your company grows and expands to other countries in the long run. 
10. Customisable payslips
A payslip format differs for each company. There cannot be only a single format. Companies have different categories at times that directly define an employee's salary. Plus, not every company is giving the same incentives to their employees.
The point here is that there should be a fully customisable feature available to HRs and their teams. Then they can edit and audit leaves (rejected/allotted), over time, and other incentive heads in the payslip. That is for each employee or in bulk. 
Later, HRs can fix that format so they won't have to adjust the template every month manually. 
11. Loans and bonuses
Companies often offer additional benefits to their employees. Those loans, advances, and bonuses. Employees have to pay back interest rates for loans and advances. At the same time, they get credits of bonuses in their salary slip as incentives. 
These categories must be reflected in the payslip because it helps calculate tax deductions properly. There could be other types of funds or loans taken by an employee from the firm. Every such bonus or loan interest payment must reflect in the pay.
So we can say it's an important part of the must-have payroll software features for a growing company. 
12. Full and final settlement
For a departing employee, a lot of calculation has to be in place – be accurate even. Unfortunately, during these calculations, human errors are possible. That makes full-and-final settlement difficult. 
But must-have payroll software features enable HRs to settle unattended leave balances, ex-gratia, PF, bonuses, holding amount, etc. This way, the final month's salary calculation for the departing employee is easy and seamless. 
Final audits can also be verified from the employee data registered in the system. So there's no chance of any miscalculation, misconception, or misclassification. 
Conclusion:
12 must-have payroll software features are written carefully above. A few cases are also mentioned as examples of the usability of these features. HRs must understand these features before investing business funds. 
Their best payroll management tool should be on-cloud and backed with AI intelligence. This way, it's easy to follow the market and industry trends in terms of payroll & expenses.