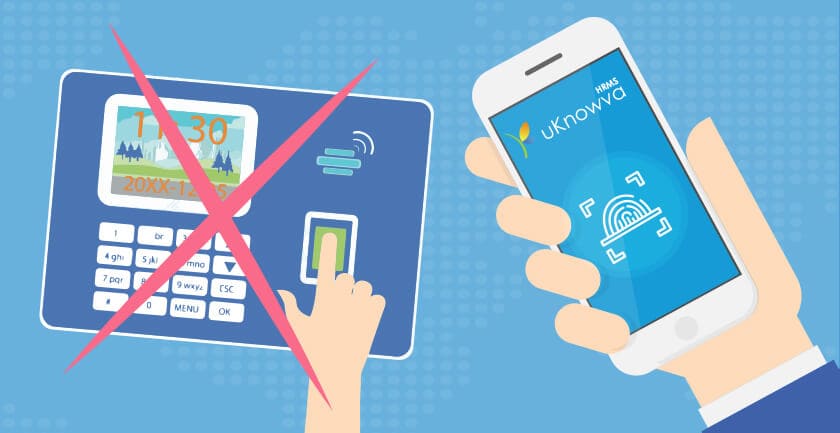 "A truly disruptive technology not only changes the way people think but also the way they operate.''
uKnowva's latest Human Resource Management System, aims to revolutionize the traditional attendance process. The HRMS system from uKnowva improves the attendance process making it automated & efficient by using latest web technologies.
Shortcomings of physical bio-metric machines
The functionality of HRMS systems has uncovered numerous flaws of physical biometric devices. While it is quite expensive to rely exclusively on a network of physical biometric devices due to high maintenance, electricity and equipment costs, it poses performance drawbacks too:
Physical bio-metric machines are wall mounted devices limiting their usage to in-office employees however, tracking attendance of on-field teams still remains a challenge
It is quite an unusual task to upgrade or update the software or hardware of such machines for enhancement of their performance  and being a physical device it requires frequent cleaning and maintenance
The data has to be fetched manually from physical bio-metric devices and often, the data is stored in excel files which are not readily available to users for reporting
Businesses find physical bio-metric authentication inconvenient while managing the bio-metric data and it can only tell the time when an employee interacted with the machine, leaving the rest to estimation
At times physical machines can act buggy
What is virtual biometric and how it works
The virtual biometric plugin available with uKnowva HRMS allows employees to login using multiple devices. It uses following two data points to identify and track employee attendance:
Identity: Entering a unique user ID and password confirms the identity of the employee
Location: The plugin picks up the location/IP of the device which helps to identify if the employee is in the office or at some other location.   
The HRMS software features a wide range of tools to manage and review employee data while reducing manual effort through automation. Our/uKnowva's virtual biometric is designed to help small and medium scale businesses through cost effective management tools. The platform can also be customized to suit the specific needs of any business.
Our/this HRMS software also helps in monitoring the employees during their job and provides secure communication within the company. The software can also be scaled to match the employee growth or to match requirements of larger organizations.  The employees can easily login and update their schedule for the day and as they enter completed tasks the system updates their working hours.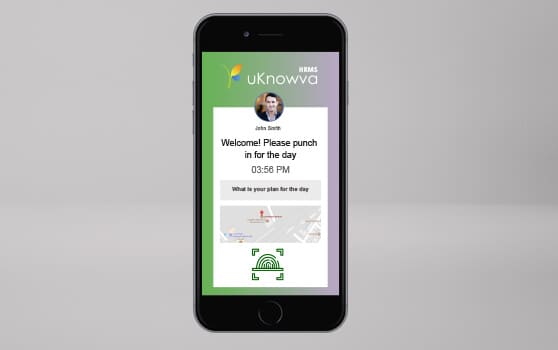 Why our/uKnowva's virtual bio-metric is the perfect option for organizations
Our/uKnowva's HRMS software is highly versatile and efficient to offer more functionality and overcome the difficulties of physical biometric systems. It has various advantages as compared to conventional physical bio-metric systems:
Employees can login using their smartphones, laptops and tablets from anywhere this allows them to directly go for meetings and other field tasks without needing to come to office for attendance.
The virtual biometric system automatically syncs data with the system, updating details such as working hours, leaves, late remarks etc. each day. Thus, managers can directly access simplified data from the dashboard.
The HRMS system is regularly updated to eliminate any security flaws and provide better services to the users.
The platform enables managers and employers to track and monitor the employees and teams in real time through GPS facility for location and IP address identification. This feature also helps them to check how much time the employees spend on out of office meetings and track when someone is working from home.(See the picture on the right side)
The virtual biometric system ensures easy management of data while providing better and accurate details.
Our/uKnowva's HRMS system can be linked with physical biometric identification devices to accommodate and enhance them without disturbing existing systems.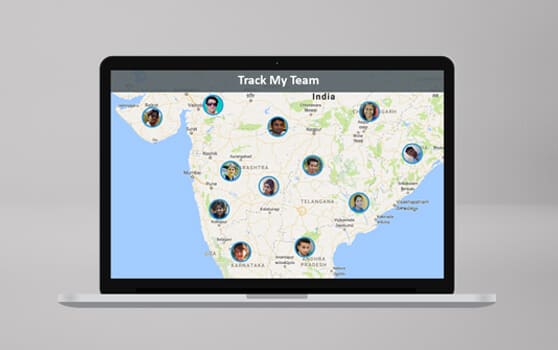 Cost efficiency and immense flexibility of our/uKnowva's HRMS software has allowed it to open new opportunities and usher in a better technology for future. In the coming time, with the availability of fingerprint sensors and Face ID technology, users won't need to enter credentials on devices they don't trust. With betterment of software, organizations will also get reduced expenditures as automated systems will further replace manual process.
In the coming time, faster and better HRMS systems will help organizations save considerable amounts of time & money and make business more dynamic