ERP needs no introduction. Enterprise Resource Planning is so popular in fact that selecting appropriate ERP software for your company can be an overwhelming process. The need for choosing ERP software is eliminated by uKnowva. uKnowva is an extensible Enterprise Social Platform (ESP) and one of its very useful extensions (or applications, if you prefer) is the ERP Management System.
 This extension has been successfully installed and customized in uKnowva, on BucketBolt's instance.
BucketBolt is an online bookstore for students. What makes it unique is its buy-back policy. It buys books back from the students that buy from the site much like the local bookstore. With its large customer and supplier bases, the number of orders, deliveries, and pick-ups are huge. Choosing the smarter way, BucketBolt shifted its entire order processing and the site administration to uKnowva.

Two customized tabs have been created and implemented for BucketBolt—Logistics and Site Backend. We'll be concentrating on the Logistics part in this post. Logistics is BucketBolt's version of ERP implemented on an ESP. Logistics handles all the operations of the site like maintaining inventory, checking orders and delivery, listing Publishers and Invoices, etc.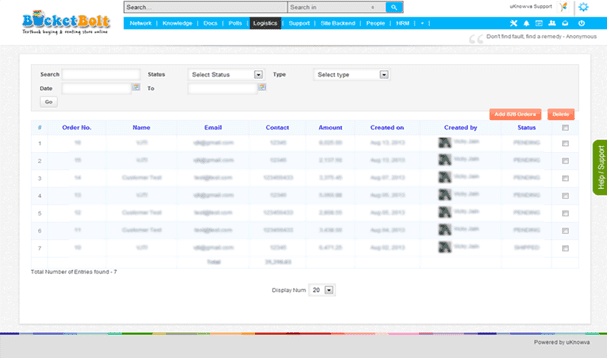 BucketBolt accepts bulk orders for businesses as well. For this reason, there are two separate types—B2C and B2B—of Books to Order, Ordered Books, and Books to Ship. B2C stands for Books to the Customer and B2B stands for Books to a Business.
The flow of a purchase is as follows:
A customer places an order online on www.bucketbolt.com
The order is logged in Logistics under Books to Order (under B2C or B2B, depending on the type of order)
The inventory is checked for available stock
The order of procurement is placed with the distributors who have the required stock. This moves the order into the Ordered Books Stage
Once the books are received by BucketBolt, the order is moved into the Books to Ship stage
From here, the order is shipped to the customer through any of the courier services available at that point of time
The ESP of an ESP for such operations is that there is no need to use different applications to get an order to the client.
Seeing the ease of implementation that uKnowva provides, one can say that it was wise to move the entire procurement to selling process to the same platform as the other activities of the company. Also, with the level of customization that uKnowva provides, any type of ERP could be very easily implemented on this platform.