Employees play a crucial role in the organisation. A regular check on your employee's health and behaviour is a must. With the increase in working pressure, the cases of employee burnout also increase. It is a serious issue that directly relates to mental health. The rising cases of burnout will harm the image of the organisation. According to a recent survey, 2/3rd of full-time employees deal with this situation at some point in their work cycle.
These burnouts will lead to more resignations. Employees start looking for new job opportunities when they feel discouraged and dissatisfied about their current job situation. That's why it is the duty of the HRs to recognise the signs of employee burnout and take steps to prevent such a situation in their organisation.
You can avoid this critical situation by opting uKnowva HRMS software, which helps your organisation in numerous ways and increases employee engagement and productivity.
Want To Skip The Blog Post Written Below?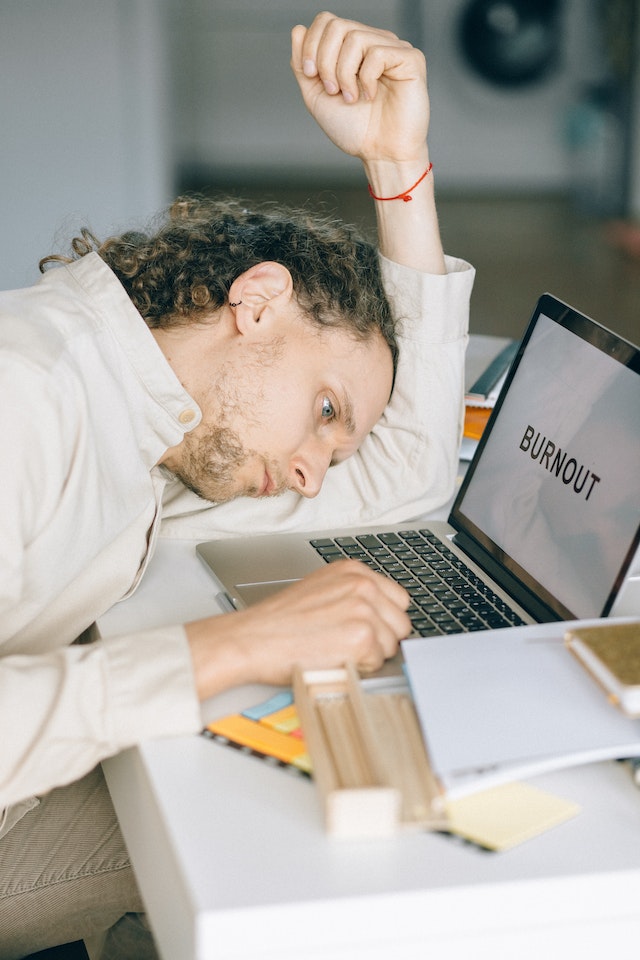 What is Employee Burnout?
Employee burnout is a situation in which an employee feels emotionally exhausted and physically weak at work. It generally happens when employees have extended workloads, and the stress is never-ending. This situation affects the physical and mental health of the employee and makes them less productive. It is noticed that employees who suffer from this burnout situation remain stressed and anxious about their jobs. They become emotionally weak and consider themselves less capable than others in the organisation.
Common Causes of Employee Burnout
Employee burnout is not restricted to a particular age or experience level. It can happen by overworking, lack of clarity or communication between authorities, biased or unfair treatment, and unrealistic expectations at work. Even though the employee is trying his level best, the rising competition and the increased workload can cause mental stress on them. 
Some other issues that can cause employee burnout are:
Impractical deadlines or schedules

Lack of opportunities

Lack of breaks in high-stress work environments 

Lack of appreciation and rewards for good performance

Lack of independence in the workplace

Unproductive leadership

Less number of staff to do the work
5 Ways to Prevent Employee Burnout
Try to Avoid Multitasking
Doing many tasks at a time is a saying of olden times. In the present era, doing numerous things manually makes employees less productive and more prone to stress. So, avoid multitasking in your organisation and use innovative HRMS software India to lessen your workload. It will help you to save a lot of time and reduce stress by automating most of your daily basis tasks. A smart HRMS software is a unified platform that incorporates everything that you demand to make you more productive and produce fewer interruptions in your high-impact tasks. It is the key to avoiding employee burnout and helps your business to achieve more success.
Provide a Clear Path for career growth
Keeping your employees engaged and motivated is a tough job. The most effective way to do so is to provide numerous opportunities to grow within your organisation. Arrange training and a special session to guide them to perform better in life. It will reduce your turnover rate and helps in creating energised and productive surroundings. You can plan the following:
Provide career opportunities

Offer promotions & rewards

Create a career development plans
Keep a Check on your Management Style
In an organisation, all employees are dependable and attached to the HRs and managers. But sometimes, HR unintentionally contributes to burnout situations by using a management style that causes stress and frustration. If you, as a higher authority, see such a thing happening in your organisation too, take time to consider the position of the manager and their behaviour. It often takes place when they are under a lot of workloads, thus assigning that workload to the employees. This situation comes in every organisation if you follow traditional methods. Do uKnowva HR management software today so that your work cycle gets automated. It will reduce the unnecessary workload on managers and HRs and help them to connect more with employees.
Provide Flexible Working Hours
Employees in the present scenario are demanding flexible working hours. They are satisfied when they are free to work from anywhere and at any time. So, if you offer flexible schedules, in which employees can choose their working shifts, and their mode of work is very welcoming. Giving short breaks, flexible login and logout timings, and remote working are some factors that help your employees keep away from burnout situations. It circulates happiness and positivity in the office environment. It enhances engagement, reduces stress, improves morale, and increases productivity.
Try to Maintain a Work-Life Balance
Last but the most important and effective way to prevent employee burnout is to try to maintain a work-life balance in your employee's life. Organisations must step forward and play an active role to avoid these burnouts and facilitate this balance. You can strictly include the following points in your working environment:
No emails on the weekend.

Clear sign-off teams for employees, so they finish their work on time.

Introduce 'self-care days' to let employees focus on themselves.

An expectation of work that demands quality, not time.
Conclusion
On the last note, employee burnout cases are spreading like a virus in all organisations and becoming a common problem among employees. The main reasons for occupational burnout may vary from one organisation to the other. The common causes of burnout also include poor communication between HR managers and employees, long working hours, being undervalued by HRs, and lack of control over their jobs. All these reasons have only one solution, that is, opting for an innovative HRMS software - uKnowva. It helps you to build a better and more friendly environment not only for your employees but also for your HRs.
FAQs
Is it okay to ask your employees about burnout? If so, how do you do that?
Yes, it is absolutely fine. You can do that by rolling out surveys and having one-on-one conversations with your teammates. Do that on uKnowva to post a thought, polls, or open a discussion forum for others to interact and participate in taking the topic ahead and improving the burnout scenarios in the firm or in a team. 
How do you take the conversation forward with an employee who is burned out?
The initial conversation with a burned out employee is not easy. It will be uncomfortable for managers or team leaders. However, they have to be empathetic and tone down their voice to be receptors of the reaction and responses expected from such an employee. Employers must be ready to listen to every type of complaint from the employee when they want to address this challenge and ask themselves how and why this situation emerged in the first place. 
Is employee burnout permanent?
No, it is not. 
Can employee burnout cause permanent damage to the firm or the team?
It can cause greater damage to the firm or the team. The managers might end up losing a great and capable talent because of employee burnout episodes. If these issues are left unaddressed or unattended, it will ruin the reputation of the firm/team. It will also make the employee and employer relationship more strenuous. Eventually, the turnover rate shoots up, and it gets impossibly challenging to recover from that point in time if the employee's behaviour is not monitored on a regular basis.
See Also