Digital collaboration has never been that in focus as it has been in the last 3-4 years. After the pandemic, digital collaboration has become the main source of attracting and retaining top talent. Managers use digital tools to connect, collaborate, and coordinate with everyone in their teams. It helps them to improve workplace productivity in the long run. 
If you're looking to activate digital collaboration, this blog post is for you. Know below how to optimise it in your workplace, especially when you use HRMS software in India. 
uKnowva is a smart HRMS software you can find in India. It will allow you to set up your workplace communication and coordination at a lightning-fast speed. The platform is reliable, dependable, encrypted and keeps all employee data secure. 
Want To Skip The Content On Digital Collaboration?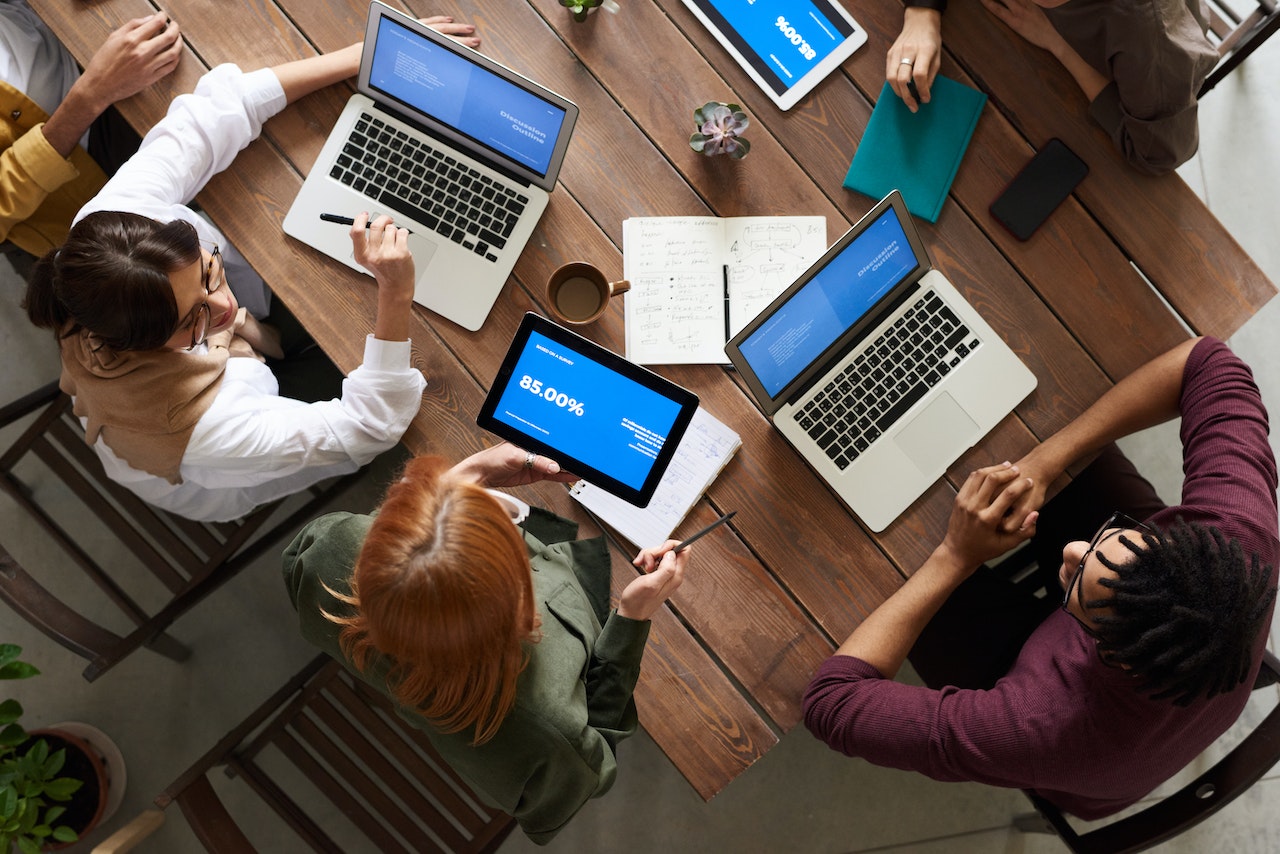 Brief On Digital Collaboration
When we talk about digital collaboration, it means all those digital devices and technology which HR managers use to connect and coordinate. It can be digital tools, steps, processes, strategies, and more. 
HR managers leverage the availability of digital human resource software technology at their disposal. They use it to be good communicators and better pursuers. The tool helps them store, retain, access, preview, and audit authenticated employee information when needed the most. 
4 Digital Collaboration Levels You Must Be Aware Of
Networking
Networking happens when two or more colleagues or peers at work talk to share a piece of information. Though, it has to be for mutual gain. This type of communication and collaboration has a minimum risk of data theft or data loss. 
Cooperation
Cooperation is when people at the workplace are ready to support one another without a formal agreement. It's formal communication when it takes place in the workplace with a limited chance of decision-making for the listener or supporter. The individuals are working independently on the basis of the influence of one person on another. 
Cooperation can be the key to solving conflicts and start working on projects together, where one assists and the other one leads. 
Coordination
Coordination happens when individuals work together on a project to complete common organisational goals. Each one of the members has their own set of roles and responsibilities. Together, they can be on the path of creating synergised effort. Communication between team members is frequent as compared to the other two types of digital communication at workplaces. 
Full collaboration
It is a formal agreement where two people or more have to work together to achieve common organisational goals. The communication between them is regular and more frequent than any other type of digital collaboration types you know of. People start taking crucial decisions together when they are in full collaboration with one another for certain projects. 
A prime example of full collaboration is when cross-functional teams come together and train or work on a project. In such a diverse team, each member has their expertise, and they know their job very well. 
4 Ways To Improve Digital Collaboration Using A Smarter HRMS
Know which type of digital collaboration you want in your workplace
There are different digital collaboration tools you can get when you start researching. However, having fully integrated HRMS software is the best solution here to improve the online coordination and collaboration of your team members. 
uKnowva HRMS software in India provides fully integrated features. This collaboration tool makes sure that each user is getting the work and coordination done fast and without dependencies. 
Such tools are self-serving portals in nature. Employees and HR managers use it to manage their timesheets, projects, attendance, staff, team performances, and loads more at once. HR managers feel that these digital collaboration tools make their day easier and more productive at work. They can concentrate on better things to do which require immediate human intervention and attention. 
Make sure that the digital collaboration tool with HRMS is not distracting
You need to deal with HRMS; that is not a distraction. Instead, you need a tool that helps resolve queries and conflicts without delays. uKnowva does that for HR managers and their team members. It has a strong and reliable ticketing system. Clients can also ask for customisations to add a grievance redressal system and a suggestion box. This will improve the coordination of everyone on the team. 
Plus, the feedback and suggestion system will be automated. Anyone can leave suggestions in the box online. Virtual employees will also feel like a core part of the team when the HR manager and senior management pays attention to their comments and work on them together. 
The digital collaboration tools must have an advanced document storage system
A documentation repository is an important feature that a modern digital collaboration must have. Without that, to and fro of the communication does not reduce to a greater level. When HR managers upload a document or a policy, employees get instant notification on the newsfeed. They can check the documentation whenever they have time. They will have the option to comment, view, and like it. The one who uploads it gets instant alerts on every comment. This way, every communication gets better with each new post and announcement of the live document uploads and updates. 
Every employee or user must be eligible to use the digital collaboration tool
Complete HR software or HR management system allows everyone to use it, despite their location or working hours. Employees need such a tool to communicate and coordinate regularly without fail. HR managers invest in these tools to improve digital collaboration at every level, from pre boarding and onboarding, to succession and manpower planning and offboarding.
The Bottom Line
We are living in an era of complete digital collaboration. There is no way we can ignore it at the workplace anymore. HR managers need to pay attention to collaborative tools like uKnowva HRMS to make sure employees are well connected to one another. 
FAQs
What are the primary goals of having an improved and ongoing digital collaboration tool?
The primary goals of having an ongoing and improved digital collaboration tool are to streamline corporate communication, coordination, document management, content management, user/profile management, employee engagement, and more. 
What are the three purposes of any digital collaboration tool?
The three main purposes of a modern digital collaboration tool include document management, sharing of innovative and creative ideas, and overall individual/team task management. 
What digital skills must employees possess for better digital collaboration?
Employees must have digital skills like the ability to surf different tools easily. They must know what they need to find, how, when, and where. They must know how to close loops of action points with online or virtual teams. They also should be able to access the digital collaboration tools on their smart devices like tablets, mobile phones, laptops, etc.
See also
How To Streamline HR Communication In 5 Ways?
How To Improve Communication And Coordination In HRM?
How Can A Social Intranet Redefine Corporate Communication?
8 Innovative Ways To Minimise Workplace Negativity
Cross Functional Collaboration: 13 Main Challenges And Solutions