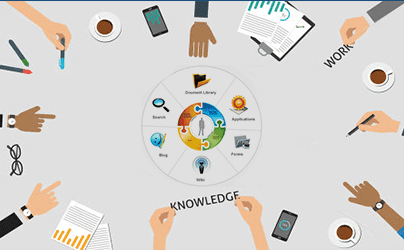 Any new format is always an extra burden for the employees to learn and adapt to unless you make it a fun experience for them. When you get an enterprise collaboration setup for your organisation the second step is to train the people how to make best use of this tool. You can either chose the traditional way of calling them to the training room and giving them a long lecture or you can some some of the below methods to make this learning super fun. 
1) Blogging marathon
Get your employees engaged in the software by asking them to give inputs by the form of blogs. Blogging is one of the most extensively used tool in enterprise collaboration software and can be beneficial to increase the inter departmental engagement in the organization. Run an interesting activity like a Blogging Marathon and assign the duty to some good writers among your employees that they need to post at least 10 blogs in 10 hours one  after the other. Let the fun begin!
2) Start a poll
Polls are another engaging tool where every employee can participate. Start a poll on a lighthearted yet interesting topic like the food in the canteen or the next picnic destination and ask every employee to make a vote.
3) Selfie with the software contest
Social intranet is an amazing way to make a social connection among your employees. Make them feel comfortable with the tools like photo sharing by running a photo sharing contest. Make it a theme like selfie with the new enterprise collaboration software. See how creative your employees can be while getting them to have some fun and also get used to the new system.
4) Assign HODs to start forums for other departments
While the above tricks will increase personal conversations on your new software, to get professional mingling started try the discussion forums. You could initiate the process by asking the HOD's of every department to start a forum for the team members of another department. This way can they actually share a lot of learnings.  Example: A marketing HOD could start a forum for the packaging team saying the latest trends in packaging that help in better sales.
5) Keep an instant messaging only day
Many companies who have got used to using Enterprise collaboration tools prefer using instant messengers over email. The main benefits are that they are quick, reliable, usable from any device and can e used anytime. Get your employees used to this tool as well by declaring an instant messenger only day- where in all your employees will have to communicate only through the messenger for an entire day. Ban them from using emails or any other mediums for that day.